Lost and found Samsung Galaxy S5 reportedly survives for almost 7 months outdoors
64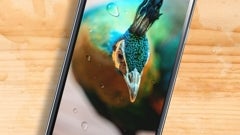 Released by Samsung over 2 years ago, the
Galaxy S5
was the company's first flagship smartphone to be dust- and water-resistant. Thanks to the fact that it's IP67-certified, the Galaxy S5 is completely protected against dust, and can be immersed in water up to 1 meter for up to 30 minutes. Of course, you can also take the handset out when it's raining without worrying about its functionality.
But what if you leave a Galaxy S5 outside for a longer period of time, let's say months? Well, a South Korean man named Bae Gyu-ryong unintentionally did that when he lost his S5.
According to Korean publication Yonhap News, this particular Galaxy S5 was lost it in September last year in the owner's persimmon orchard. The device was on silent mode, and, even after days of searching, it could not be found (we assume that the phone didn't have
Android Device Manager
installed). This April, though, while working in his orchard, Bae Gyu-ryong accidentally discovered his S5 - almost 7 months (including winter time) after losing it. The handset was wet, but, after being dried out and recharged, it worked just like before, despite the fact that it's been through rain and snow for such a long time.
Needless to say, although this story had a happy end, we don't recommend anyone to leave their Galaxy S5 (or any other smartphone, for that matter) outdoors for long periods of time.
At the moment, you can buy an unlocked Samsung Galaxy S5 for around $350. The handset was recently updated to Android 6.0 Marshmallow, so it remains an option to consider if you don't need a phone with the latest hardware specs, but still want protection against dust and water.