Here's why you should try hard not to lose the tips from your Samsung Galaxy Buds
7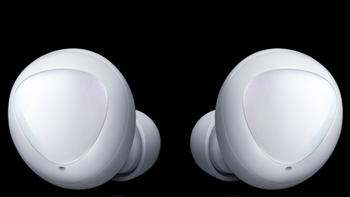 The Galaxy Buds have some great features. Enable Ambient Aware, set through the Galaxy Buds app, controls just how much outside noise you can hear while using the accessory. The app also allows you to select Quick Ambient Mode, which allows you to press the touchpad on the outside of one of the Buds in order to hear what's going on around you. You can hear the ambient sounds for as long as the touchpad is being pressed. You can even use the app to decide which ear you will hear the ambient sounds from. The Quick Ambient Mode can prevent you from missing important announcements while using the Galaxy Buds such as the announcement that your flight is boarding, or the sounds of traffic while you're walking.
The Samsung Galaxy Buds can charge wirelessly while in their case. You can get up to six hours of use on a full charge, and if you're still out and about, another seven hours by charging them up while they are in the charging case. In fact, the wireless PowerShare feature on the Galaxy S10 line can be very useful when the batteries on your Galaxy Buds run dry. A 15-minute charge in the charging case will provide 1.7 hours of battery life for the ear-worn wearable.
But let's say that you lose one of the tips or rings belonging to your Galaxy Buds. Well, you might figure that you can simply turn to Samsung or Amazon and purchase a replacement in seconds.
According to Android Central
, this is
not
the case. In fact, if you detest dealing with a company's customer service team, you probably won't want to read this. If you need those replacement parts, you will have to contact Samsung Support.
If you need a replacement tip from Samsung, you might get the run-around

We tried to find out from Samsung just how much the replacement tips and rings would cost, and if our experience with the support line is typical, prepare to be frustrated. We were transferred from department to department before we were finally sent to Samsung's parts department (1-800-726-7864), which was closed for the day. No one seemed to know what we were requesting and one call center employee tried to tell us that we would have to buy new Galaxy Buds for $130. If we do finally get the pricing, we will update this article. We can't imagine that eventually, replacements wouldn't be available from Samsung, Amazon or a third party manufacturer.
The Samsung Galaxy Buds replaced the Gear IconX earbuds and offer improved sound, longer battery life, and various new features. The success of ear-worn wearables, a category that includes Apple's AirPods, is certainly no fluke,
and the future looks bright for this category
. According to research firm Gartner, by 2022 this segment of the wearables market will be number one, topping the smartwatch category with shipments of 158.43 million units. That compares to the 46.12 million units that Gartner expects to be delivered this year. While smartwatches are currently the top wearables product, Gartner sees slower growth for that slice of the wearables pie when compared to ear-worn devices. For example, while the firm sees smartwatch shipments growing 55% from 2019 to 2022, it sees deliveries of ear-worn products exploding more than 240% over the same time period.