Wearable shipments to rise over 25% next year says Gartner, led by smartwatch deliveries
1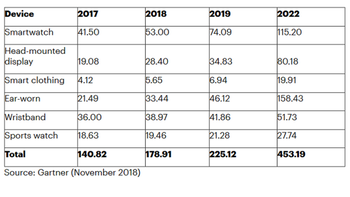 Analytical firm Gartner
is expecting strength in the wearable device market next year. The company is calling for shipments of wearables to rise by 25.8% in 2019. Consumers will spend $42 billion to purchase these products in 2019, with smartwatches responsible for $16.2 billion of that amount. Gartner's senior director, Alan Antin, says that the Average Selling Price (ASP) of smartwatches is being held up by the stable price of the Apple Watch. Still, Antin sees the ASP of these connected timepieces dropping from $221.99 in 2018 to $210 in 2022 as low priced competition enters the market, and the supply chain lowers prices for components.
Gartner sees a jump in wearable shipments from this year's estimated 178.91 million units to 453.19 million by 2022. During that same time period, the firm expects smartwatch shipments to rise from 53 million to 115.2 million units. The biggest jump in deliveries from 2018 to 2022 is expected from ear-worn devices like the Apple AirPods and Samsung's IconX. With Gartner expecting such devices to reduce users' reliance on smartphones to handle some tasks, shipments are estimated to rise from 33.44 million units this year to 158.43 million units by 2022. That would make ear worn gadgets the most popular wearable device by that year.
Strong growth is also expected in head-mounted displays, a category that includes Augmented Reality glasses expected in the next two to three years from companies like Huawei and Apple. By 2022, Gartner sees 80.18 million of such devices being shipped as opposed to the 28.40 million estimated to be in transit this year.
Recommended Stories