Look, Ma, another balls ad! Sprint takes a shot at Verizon and T-Mobile with its own ballsy promo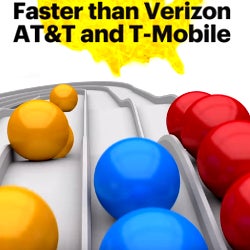 Not to be outdone by Verizon and T-Mobile, Sprint also juggles some balls in its newest ad, trying to hammer home the notion that it offers a more rapid LTE network than those too, and asks subscribers less to use it, too.
First it was Verizon's ad with a whole bunch of red balls sliding down a lane faster than anyone else's. T-Mobile took the shot, and
returned it with a glut of magenta balls
sliding down all the lanes in full force, claiming that Verizon omitted the fact how T-Mobile's LTE now covers almost as much people as Verizon's.
Sprint didn't wait on those two to swing their balls around, and issued its own ad that has yellow round thingies sliding faster than the rest of the pack, then a sword slashes the scene to indicate that you can get 50% off your current subscription rate with Verizon, if you switch to Sprint. Take a look at all the ball juggling ad vids below, this is getting funnier by the day.