Look Lock will hold your smartphone to a dSLRs so you can use them both at the same time
16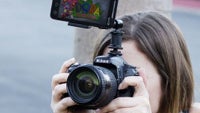 Look, a smartphone camera only gets so far. Bigger sensors and bigger optics definitely make a huge difference and if we are talking about low-light photography, DSLRs are unmatched. But using your DSLR would usually mean leaving your smartphone gathering pocket dust.
What if you could use the two at the same time? Well, now this is possible with the
Look Lock
, a neat creation that attaches to a DSLR's hot shoe. It will hold your smartphone so you can film or show something on it while snapping images on the DSLR. The possible uses? You can use it as a cheap teleprompter alternative, or shoot video on the smartphone while taking images on the DSLR, or just play something funny to make the other person smile.
In any case, the Look Lock opens a lot of creative opportunities. It costs $75 and best of all - it is available now. Hit the source link below if you are interested.
source:
PhotoJoJo
via
CNET