London Philharmonic Orchestra gets the Angry Birds theme right from the first time
5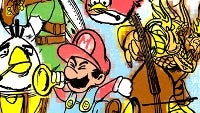 Who said the London Philharmonic Orchestra is a snobby institution that scoffs at popular trends? The orchestra is planning a big show on September 2, where it will play themes from popular games, including the ubiquitous Angry Birds franchise. This is part of the promotional activities for an album brim-full of video game music, and if you happen to be in London the day after tomorrow, the concert starts 7:30pm local time with pretty reasonable ticket prices. For the LPO, that is.
Apart from plans for world domination, which
the developers from Rovio have expressed numerous times
, the honor that their title's theme song gets played by the London Philharmonic Orchestra must serve their self-aggrandizing nature sufficiently enough.
Bummer that they are not singled out, though - the band is getting together over numerous other titles' theme songs, like Advent Rising, Halo, Bioshock, Dead Space, Mass Effect, Battlefield, Call of Duty, Splinter Cell, Elder Scrolls, Final Fantasy, Legend of Zelda, Myst, World of Warcraft, Uncharted: Drakes Fortune, Tetris, Super Mario Bros, Enemy Zero, 007: Blood Stone, Little Big Planet, Grand Theft Auto and Metal Gear Solid.
There is no arguing that games can have amazing soundtracks, which add a great deal to the atmosphere they want the players to immerse in. The London Philharmonic Orchestra picking up on that only shows that it is in sync with the musical trends around it, and paying tribute to the all-popular Angry Birds sounds both like
the ultimate bow to popular opinion
, as well as recognition that the next catchy tune might be as much a product of creativity as classical pieces. Getting philharmonics to play movie soundtracks is one thing, but video games themes is a sign that times-they-are-a-changing.
source:
LPO
via
Electricpig