Location tracking leads to raid on Google office in South Korea
12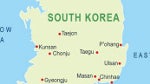 South Korean police raided the Seoul office of Google on Tuesday, charging the company with collecting personal data without permission. Reuters reports that the police are investigating the Mountain View based firm's AdMob subsidiary, leading to the raid. A South Korean police officer said, "We suspect AdMob collected personal location information without consent or approval from the Korean Communication Commission." For its part, Google said it would cooperate with the investigation.
The information gathered by AdMob is designed to help Google deliver personalized ads to handsets based on a person's location or preferences. According to
KimKwang-jo, a computer science professor at the Korea AdvancedInstitute of Science and Technology,
"Every technology has a flip side. Location-based servicesbenefit customers by helping them find nearby restaurants, gasstations and other places with their smartphones."
South Korean officials opened investigations of Google starting with the company's use of its "Street View" cars to collect private data. Last month, South Korean internet portals complained to anti-trust regulators that Google's position in the mobile search engine market was anti-competitive.
Besides Google, the office of local internet portal Daum Communications was also raided. Police said the raid also took place for the collection of personal data without consent. Daum responded by saying that the location data compiled by its mobile ad business was legal because the data was anonymous and could not be tracked down to any particular person.
source:
Reuters
via
AppleInsider
Recommended Stories