LinkMe is a smart alert bracelet that puts real-time messages on our wrist
9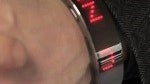 While we know
that Samsung is developing a smartwatch
and we are pretty sure that
Apple is doing the same
, we do not know what those final products will ultimately do, when they will be available or how much they will cost.
A couple enterprising guys in New York City are working on a similar product, but with this simple form factor, you know what you get, how much it will cost, and about when you will get it if you support their kickstarter campaign.
The LinkMe is a smooth looking bracelet, connected to your smartphone via Bluetooth, with an LED display which can scroll alerts across a small display like a billboard. The LinkMe will display alerts from contacts or people you follow on Twitter and allows for customization with symbol codes as part of the notification. LinkMe will also do double duty as a watch as well.
Now the ultra-geeks may look at this and think it is far too rudimentary in the smartphone world where we want everything that is connected to our smartphones to be nearly as functional. However, that would detract from the ultimate simplicity of what LinkMe will do. The battery will last up to two weeks, the final design will have over 200 LEDs, and weighs less than three ounces.
The speed of the scrolling alert can be adjusted as well and will be available in a variety of colors. The final product is expected to be in excess of $150, but a pledge in Kickstarter will land you one for only $99. Delivery is expected in August, which will probably be before any of the big-players enter the ring.
source:
LinkMe
(Kickstarter)
Recommended Stories