Lingua.ly app brings funky language learning to your Android device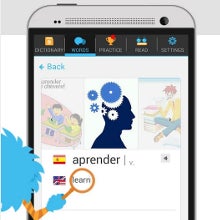 The fun language-learning experience of Lingua.ly now has its brand spanking new Android application, called "Lingua.ly - collect new words." As the name suggests, it's a creative take on the chore that the uptake of a new language usually is. You can copy and paste new words to check their meaning in the app's smart dictionary, or you can key them in as a more traditional approach.
The app offers to harden your language apprenticeship skills by quizzing you with tailored flashcards or short game puzzles. Right now, Lingua.ly supports most of the widely spoken languages, like English, Spanish, French, Hebrew, Arabic, Chinese (Simplified), Chinese (Traditional), Czech, Dutch, German, Greek, Italian, Japanese, Korean, Polish, Portuguese, Russian and Turkish, and more are on the way. The personalized content can be shown in English, French, Spanish, Hebrew and Arabic. Check it out from the download link below, if you want to brush up on your French or other language in a light, unobtrusive way on your Android device.