Like the e-ink secondary screen on the YotaPhone 2? This phone upends it with better specs and a lower price
8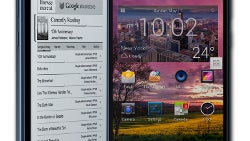 The YotaPhone started a new niche in smartphones: it was the first handset to feature both a regular screen up front AND a secondary e-ink display on the back. The secondary screen is similar to what's used in e-readers like the Amazon Kindle: a monochrome panel that is much more power-efficient than regular color LCD/AMOLED displays, and allows users to read on it without worrying about running out of battery within hours.
Now, however, another phone adopts that idea while upending the YotaPhone in terms of specs, while selling for a lower price. It comes from China, from an emerging phone maker named Siswood, and the device is the upcoming Siswood R9 Darkmoon.
First, here are the specs in a nutshell:
Android 5.0 Lollipop
5-inch laminated IPS display with a resolution of 1080 x 1920 pixels
4.7-inch e-ink secondary screen with a resolution of 540 x 960 pixels
MediaTek MT6752 1.7GHz 64-bit octa-core chip with 3GB of RAM
32GB of internal storage
Dual SIM connectivity
4G LTE support for bands FDD-LTE B3/B7/B20, TDD-LTE B38/B39/B40
3000mAh battery with Qi wireless charging support
In comparison with the YotaPhone 2, the Siswood R9 Darkmoon features 3GB RAM vs 2GB of RAM on the Yota, and it has the larger battery: 3000mAh vs 2500mAh. The camera on the R9 Darkmoon also sports a 13-megapixel resolution, more than the 8MP camera on the Yota (but let's keep in mind that megapixels alone are not an indication of quality).
If you use the secondary e-ink display more, the phone can last you a few days on one charge
The big question is whether Siswood has optimized the secondary e-ink screen to the same extent as on the YotaPhone, where you can check your Facebook, Instagram and Twitter, for instance. The main use of the e-ink display, however, is clearly for bookworms, as you can freely read your favorite books without worrying that you'd run out of juice. An e-ink screen also has the huge advantage of being easily visible under direct sunlight as opposed to LCD/AMOLED displays.
Siswood is now taking customers' ideas at its forum (hit the link below), as it works out the minute details of the R9 Darkmoon. The phone will be coming out 'soon' and there is no pricing details just yet, but initial rumors all agree that the phone will be more affordable than the YotaPhone 2, which sells for the price of a regular flagship.
Recommended Stories