Libyan rebels take control of their mobile network, restoring communication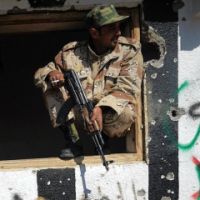 Recently in Libya, Col. Moammar Gaddafi's government severed wireless communications and Internet access to the people. But
rebel forces have since captured control of a major wireless network, and restored communications within Libya
, and between Libya and rest of the world.
A Libyan-American telecom exec, Ousama Abushagur, engineered the plot from his home in Abu Dhabi. He first gathered financial support from the U.A.E. and Qatar, who paid for both the equipment and the security forces necessary to take control of the Libyana network.
Abushagur attempted to purchase the equipment from
Huawei
, the original supplier for the Libyana network, but they refused to get involved. But the U.A.E.'s Etisalat stepped in to provide the equipment "needed to operate Libyana at full capcity."
With a security force, and both Libyan and Western engineers, they captured the Libyana network base in Tripoli, and restored wireless service.
The so-called "Free Libyana" network was an important step for rebel forces to communicate with one another. Beyond being outgunned, the rebels were forced to communicate in battle with flags. "Gaddafi forced us back to the stone age," said one rebel commander.
Besides the implications for the rebellion, ordinary citizens are now able to communicate across the country and the globe for the first time in a month. And, at least for now, all their domestic calls are free of charge.
source:
Wall Street Journal