LiFX wireless and colorful smartphone-controlled light bulb promises to bring the future of lighting on Kickstarter
6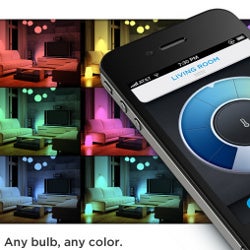 We've been talking about ubiquitous computing for quite a while - from a sci-fi dream to almost reality - but never quite there. We've been waiting for big companies like Apple and Google to serve us that future one bright shiny day, but in the past year or so Kickstarter has become the platform where you can not only wait but vote with your dollar to make the future a present reality, and one bold project that grabbed our attention with its innovation is LiFX, the reinvention of the light bulb, if we are to believe its creators.
LiFX is a wirelessly controlled LED light bulb
that you control with your smartphone. It changes colors to your liking, it can be dimmed, and it can be programmed to automatically do stuff like change its colors to match the beat of music. Best of all, it's simply a light bulb with no hefty chips or nothing like that, it's all inside and connects to your local Wi-Fi network and that's how you control it.
Here's how Phil Bosua, one of the creators of the LiFX light bulb explains it:
LIFX is the smartest light bulb you've ever experienced. It's a wifi-enabled, energy efficient, multi-colored bulb that you control with your iPhone or Android. LIFX gives you unprecedented control of your lights, reduces your energy costs, lasts up to 25 years and delivers an amazing range of experiences we think you'll love.

LIFX is incredibly easy to set-up. Simply replace your existing bulbs with LIFX smartbulbs, download and install our free app from the App Store or Google Play and you're good to go.
So yes, Android and iOS support will be there and setup is just as easy as it is with a regular light bulb, which is great news as well. Imagine the possibilities for photographers and those that like to set the dim lights and romantic mood for a dinner, or just impress friends by throwing an awesome home party.
The one slight issue? You guessed it - price. A pledge of $69 or more on Kickstarter, reserves you one LiFX bulb, and you can get this down if you order more than one, but it still seems like a pricey product. If that's the price of the future coming to your home, maybe it's worth consideration, though, don't you think.
source:
LiFX on Kickstarter