LG puts the focus on audio with the G7 ThinQ
41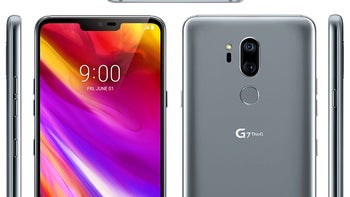 In a time where manufacturers are abandoning the headphone jack, LG has just announced several new features to appear in the upcoming
G7 ThinQ
. LG has been known for including
quad-DACs
in its phones. Those who love high-end headphones and audiophiles are always very appreciative of this feature. It is clear that a majority of music today comes from the smartphone. We power Bluetooth speakers with them at parties, we connect headphones to them at the gym and we connect to our vehicle's sound system when driving. LG recognizes this and is placing the focus on one of the things that move us, and that thing is audio.
What are the new features?
The first is something the company is calling Boombox Speaker. The speaker is said to increase the sound level by more than 6dB. It will also double the bass produced by the device. The company has placed the new speaker inside the phone and have developed a way to use the extra space inside as a resonance chamber. If you have ever seen an orchestra perform in an amphitheatre, you have an idea of how purpose-built spaces can amplify sound. Before sound systems, this is how classical music was amplified to a large audience. In any case, this design allows a user to have quality sound from their handset, rather than using an external speaker. The feature really shines when the device is placed on a box or other surface. when placed on a surface, it acts as a woofer which further amplifies the sound. We have seen speakers designed to work this way before, but LG is bringing it to its mobile device. Doing work around the house, or having a small, impromptu get-together? You may find yourself appreciating the Boombox Speaker.
The second feature is DTS:X 3D Surround Sound. DTS launched in 2016 and was aimed at re-creating 3D sound for surround sound systems. They initially focused on the
7.1
systems, but also developed ways to create this sound using regular systems that include just two speakers and a subwoofer. DTS also became capable of creating a similar experience, using just headphones. So while you may find this tech elsewhere, you wont find it in a smartphone. DTS will create an immersive, 3D surround sound-style audio experience through your headphones for both music and movies. This may just be the best reason to keep a 3.5mm headphone jack around.
The DAC lives on...
Yes, LG has kept on with the tradition and included a Hi-Fi Quad DAC in the
G7 ThinQ
. For those who love audio, the company says the DAC has four digital to analog audio converters and lowers total harmonic distortion to just 0.0002 percent. This will create better accuracy in sound. Finally, LG notes that the G7 will support MQA format, which keeps sound quality high but takes up less space.
LG has really upped the ante on audio with the G7 ThinQ. The question is, how do you feel about it? Will you appreciate the extra features and attention to detail LG has put forward when it comes to sound? The second speaker on the
Galaxy S9
was a big hit for a lot of users, so how about this? Let us know!