Lenovo to beat Samsung to become China's most popular smartphone brand in 2013
13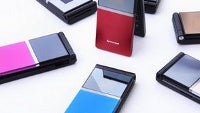 Lenovo might not be the first name to pop into your mind when you think about smartphones, but you'd better think again. The Chinese company last quarter rushed into the list of top phone brands in the world's most populous country, second only to Samsung, and soon this might change too.
Lenovo is pushing things forward and in 2013 it is expected to become China's most popular brand, according to researchers from Gartner. In Q3 2012, Lenovo held 14.8% of the Chinese smartphone market, following Samsung's 16.7% lead. Apple in comparison had a mere 6.9% share in the third quarter of this year.
And Lenovo is singled out to be the only Chinese brand with enough recognition to fight against global companies like Samsung.
"The brand is positioned at the mid-to-lower end which will drive much of its future growth, and this is where global brands are less competitive,"
Gartner said. Lenovo is indeed selling affordable devices and is a well known brand in China, where Android dominates the smartphone market with an over 90% share.
source:
DigiTimes