Lenovo outs its new Surface Pro challenger, the MIIX 720
8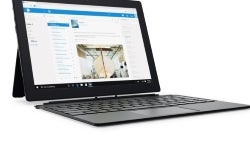 Lenovo debuted a new Windows-powered detachable tablet, the MIIX 720. The successor to the MIIX 700 offers sensible changes over last year's model and stands out as a worthy competitor to the Microsoft Surface Pro 4 (and perhaps, the upcoming Surface Pro 5). For starters, Lenovo has upgraded to more power-efficient 15W processors on Intel's Kaby Lake architecture.
Moreover, the tablet is equipped with a very sharp screen – a 12-inch 2880x1920 3:2 panel with a pixel density of 288 pixels per inch which is more than what both the MIIX 700 and the Surface Pro 4 have to offer. The screen is rated at 400 nits of maximum brightness and is protected with a Gorilla Glass cover. Different configurations allow for up to 16 GB of DDR4 RAM memory and up to 1 TB of SSD storage.
Lenovo will be racing against the Microsoft Surface Pro 5, which could appear before the MIIX 720.
Despite changes, the Miix 720 measures the same as its predecessor – 11.5x8.27x0.35in and 1.72lbs (292x210x8.9mm at a weight of 780g). It features three USB ports of different variety – one USB 3.1 Type-C port, one USB 3.0, and one USB 2.0 port. There's also a Thunderbolt 3 port which connects to up to two external displays. Where battery life stands, Lenovo has rated the MIIX 720 for up to 8 hours of battery life.
The tablet has been secured with Microsoft's Windows Hello biometric protection, letting users unlock it by using the front camera though it's not immediately clear whether the system uses facial recognition or iris scanning. The device seems to lack a fingerprint scanner, which could be polarizing to some, but prospective buyers will be happy to know that Lenovo will include a full-sized backlit keyboard with all models.
We presume Lenovo will also throw in the Active Pen 2 stylus, as the device has a special slot for housing the stylus and it would appear rather awkward if the tablet shipped with a big empty slot – imagine receiving your Galaxy Note without the S-Pen! The stylus features a clickable shortcut button for Windows Ink (the operating system's stylus input recognition) and up to 4096 levels of pressure sensitivity.
The Lenovo MIIX 720 will be available in April, starting at $999.99 for the base model and sold in either Champagne Gold or Iron Gray color schemes. It is rumored that Microsoft will launch the Surface Pro 5 in March, which means that Lenovo could make its move a few weeks late and suffer losses. We'll see how things go for Windows tablets in the first quarter of 2017.
ALSO READ