Lenovo is building a $300 Windows RT tablet and $600 full Windows 8 tablet
31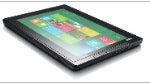 No one is quite sure exactly what price Windows 8 tablets will come in at. There have been rumors about Microsoft releasing its RT Surface tablet at just $200, but those don't seem too reliable. Even so, Lenovo is apparently looking to be very competitive with its Windows 8 tablet pricing.
Lenovo has yet to make anything of note in the tablet market, so the company is betting hard on Windows 8. And, according to David Schmoock, chief of Lenovo's North America operations, the company is going to be very aggressive in its pricing. Schmoock says that Windows RT tablets, the more limited version of the OS, will be priced between $300 and $400, and the Lenovo tablets running the full Windows 8 experience will be between $600 and $700.
That's going to make the tablet market much more interesting. Would you rather have an iPad or Asus Transformer Infinity for $500, or a tablet running the full Windows 8 experience for just $100 more?