Lenovo clarifies, says Ashton Kutcher is working on tablets, not phones
8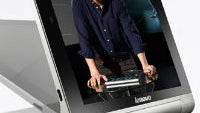 This is something of an odd story, because although it is something that we've known about since October of last year, the details of it either keep changing or keep being misreported. Originally, we heard that Ashton Kutcher had been hired by Lenovo as a
product engineer
to work on tablets. Then last week at MWC, it was reported that
Kutcher
would also work on phones. But, it seems that may have been a misquote.
So, Lenovo's Chief Marketing Officer David Roman was quoted last week telling
Re/code
that Kutcher would be working on a line of phones. But, Lenovo is now saying that was a misquote, and Ray Gorman, director of external communication at Lenovo, has told
Pocket-lint
that Kutcher will only be working on tablets, just as he has been.
Whatever Kutcher is working on with Lenovo, we hope that it gets a bit better. So far, Kutcher has been attributed to the Lenovo Yoga tablets that came out late last year. Although we liked those tablets overall, one of the sticking points was the homescreen layout, and Kutcher has been said to specifically be working with the UX software teams which could mean that one of the few things we didn't like was one of the main areas of his input.