Lenovo Yoga Tablet 10-inch hands-on
4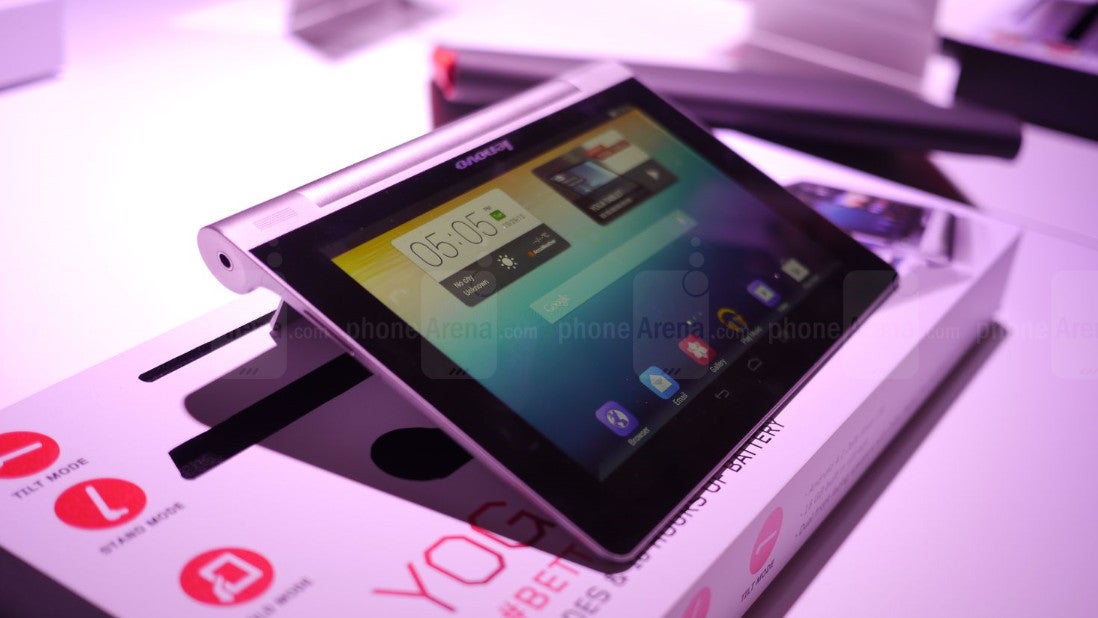 Lenovo has been making great strides in the tablet arena for quite some time, though admittedly, most of its prized possessions have been running Windows more than anything else. This time around, Lenovo's latest venture in the tablet space is going to be running Android. Stirring things up big time with its interesting and very different looking design, the Lenovo Yoga Tablet is certain to grab plenty of attention – in hopes of finding its offering on the same level as many of the other popular Android tablets out there.
Design
Wow, now this is something worth checking out! The 10-inch version of the Lenovo Yoga Tablet bears the same distinctive design aesthetics as the 8-inch model, so it's more ideal for those who prefer a more full-sized option. Looking at it for the first time, we can 't help but to compare its design with Apple's line of wireless keyboards, as the tablet has a very prominent cylindrical handle that enables us to grasp it with ease – just like holding a book in our hand! Aside from that cylindrical piece, which houses its cylindrical shaped batteries, as opposed to the customary flat ones that are widely used, the rest of the body is extremely thin.
Although we're a bit careful handling the Lenovo Yoga Tablet 10-inch for the first time, our worries are quickly eased due to its solid construction, which is comprised out of polycarbonate and aluminum – a good mix that gives it a premium feel. Overall, we have to applaud Lenovo with this one, seeing that it's a great departure from Lenovo's usual stuff.
Display
Eh, we were hoping to get at least a 1080p resolution display, but nevertheless, the 10.1-inch 1280 x 800 display on the Lenovo Yoga Tablet is passable enough. Even though it's not as high-res as other displays, it's effective enough to deliver crisp looking details that are more than visible from a normal distance – so we're not finding ourselves squinting a whole lot.
From the looks of it, the panel employs LCD technology, so it produces colors that are pleasantly natural and boasts decent viewing angles. Seeing that we're checking it out indoors under artificial lighting, we can't determine how well it'll handle outdoor usage. In the back of our minds, though, we can't help but think that it would garner a lot more brownie points for having a 1080p screen.
Processor and Memory
Powered by a quad-core 1.2GHz MT8125 processor coupled with 1GB of RAM, it doesn't really scream cutting edge – more so when we know what the greats in the space are packing. Regardless of that, based on our quick inspection, it suffices enough for most basic tasks. Then again, we wonder how it'll handle more processor intensive stuff.
For the price and all, we can't complain about the 16GB of internal storage that's stuffed inside, which can be further supplemented by the availability of its microSD card slot.
Interface
Running a customized version of Android 4.2 Jelly Bean, we have to admit that it's a very clean looking UI compared to other experiences – more so knowing that there isn't an actual apps panel with it. Instead, everything is placed in the homescreen, which already shares space with other various widgets and icons that are normally littered there.
It's a minimalist interface based on some of the things we see at the moment with this pre-production model, which is nice and all, but we'll hold back our final judgment until we fully check it out. Lenovo's customized Android experiences never really appealed to us before, so we're hoping that this one will hit the spot.
Price, release date, and carrier announcements
Fortunately, you won't have to spend a fortune to pick up the 10-inch version of the Lenovo Yoga Tablet. In fact, we're astounded to know that it's sporting a retail price of $299 – something that's easy on the pockets. Best of all, it's going on sale starting tomorrow, October 30, through various retail partners like Amazon, Best Buy, Fry's, Newegg, and Lenovo. Although there's a placeholder in the rear behind the kickstand for what seems to be a SIM slot, there's still no confirmation if we'll actually see cellular enabled versions.