Lenovo YOGA Tablet 2 Pro hands-on
5
Ironically, the tablet industry is dominated by mainly two companies – Apple and Samsung. Hard to believe, it's true considering the iPad continues to be a household name, while Sammy's extensive portfolio of tablets have been compelling on their own. And then there are the rest of the companies out there, including Lenovo, who just announced a slew of models. Out all of them, the Lenovo YOGA Tablet 2 Pro is arguably the most impressive of the bunch, especially with its large screen and built-in pico projector.
Design
Using the design language established by last year's Lenovo YOGA Tablet series of Android tablets, the YOGA Tablet 2 Pro takes it on a much grander scale. By that, we mean it's essentially a larger version of the uniquely shaped tablet – one that's most notable for its cylindrical hinge, which not only houses its battery, but also a pico projector. Yes, it's pretty darn big for an Android tablet, but it's something that some people might be interested in getting, since the size is pretty rare to find for an Android tablet. For the most part, it's pretty skinny – albeit, it's always heavier on the side of its cylindrical hinge.
Display
Boasting a magnificent 13.3-inch 2560 x 1440 quad-HD IPS display, it shines like no other thanks to its sharp details. Honestly, though, it reminds us more of something we'd find in a high spec'd ultrabook, but this is obviously an Android tablet we're dealing with. Things look pretty darn sweet, but in addition to the rich details, the real estate alone makes it wonderful for watching videos, surfing the web, and even collaborating on some sort of presentation.
Interface
Lenovo's customized interfaces have never been amazing, but some folks might appreciate the things they've changed with its latest offering, which is running on top of Android 4.4 KitKat. Just like before, they've simplified things by totally omitting the apps panel. Now, some folks might be discouraged by this, but the sizable display really lends its usefulness when running productivity centric apps. From simple word documents, to presentations, the large panel combined with the power of Android can suffice for those who want to travel light on the road.
Processor and Memory
Under the hood of the Lenovo YOGA Tablet 2 Pro is a quad-core 1.86GHz Intel Atom Z3745 processor with 2GB of RAM, which does a reasonable job in giving the tablet its responsiveness. Not surprisingly, it handles basic stuff with no fluff at all, but we're crossing our fingers that it can take on more processor intensive operations.
For an Android tablet, its 32GB of internal storage is more than plentiful – more so when it can be supplemented with its microSD card slot.
Camera
Built into the corner of its hinge, there's an 8-megapixel camera ready to take snapshots at a moment's notice. The placement is undoubtedly in a strange spot, but we're really hoping that it can actually take some decent looking shots – more so when the YOGA tablets from last year failed to impress us in this department.
Expectations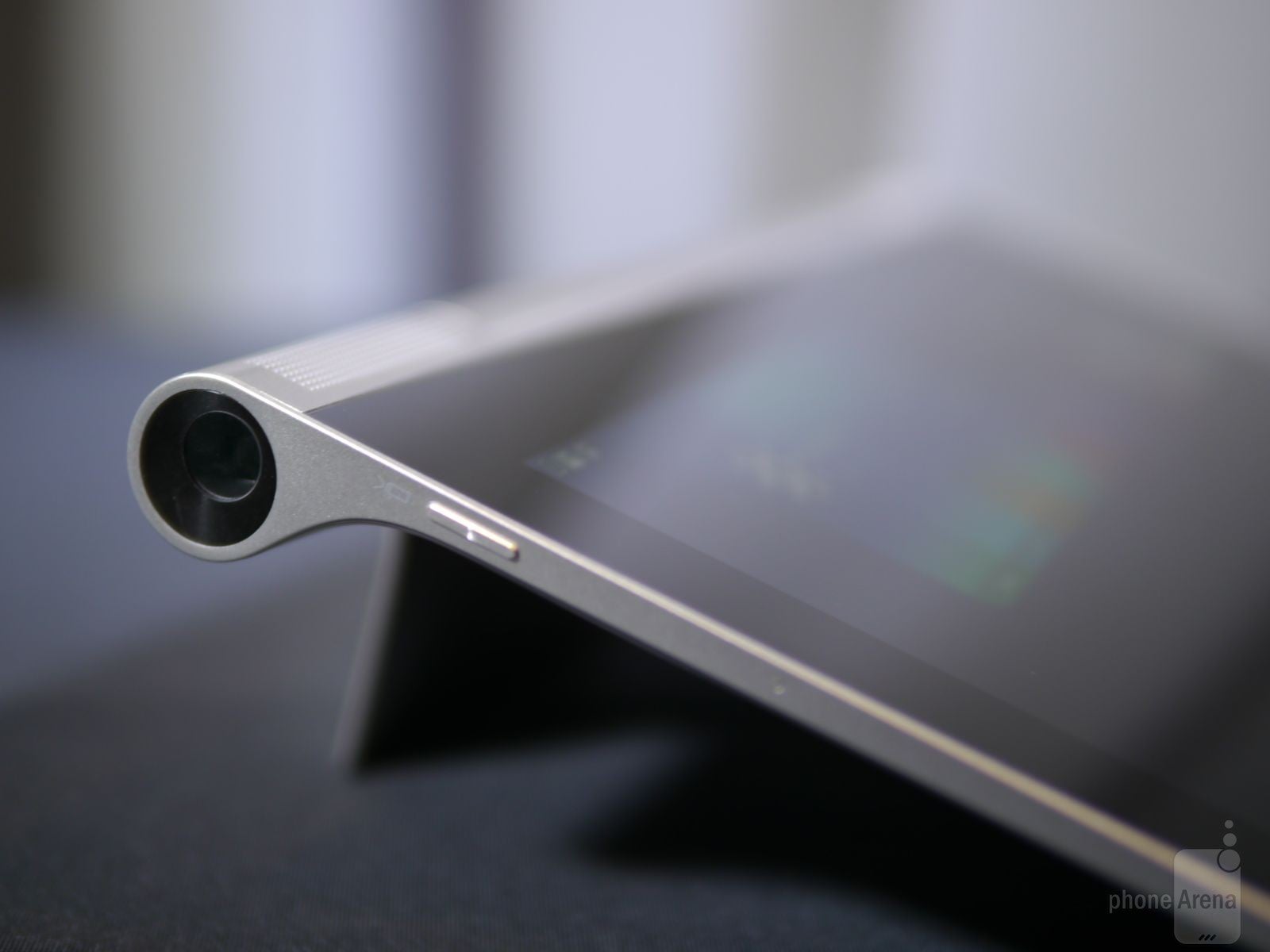 Frankly, this isn't just a larger sized version of Lenovo's Android tablets, which are underwhelming when compared to the likes of the iPad and Sammy's line of tablets. However, the YOGA Tablet 2 Pro is impressive on so many fronts. In addition to the high-res and spaciously sized screen, Lenovo is kind enough to include other premium features into the mix – like JBL speakers with a subwoofer, a built-in pico projector, and a design that's unique. Throw in the fact that Lenovo intends to sell it for $500 when it goes on sale sometime at the end of October, the entire package seems mighty tempting.