Lenovo Tab A7 hands-on
2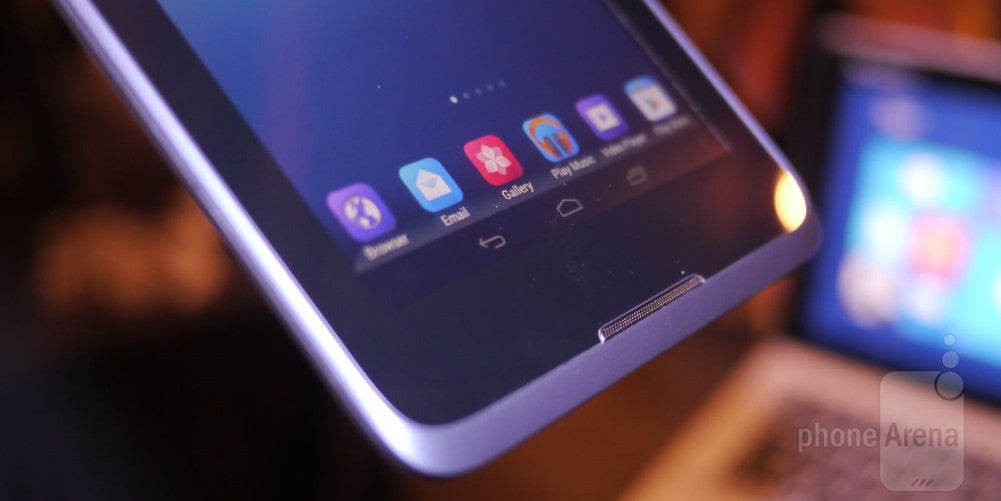 Earlier in the week, Lenovo announced a brand new line of Android tablets aimed for the entry-level segment – dubbed the A-Series. During Pepcom's DigitalFocus event in New York City the other night, we managed to scope out the most compact model out of the bunch in its newly formed series. With the aptly named Lenovo Tab A7 tablet, it's sure to catch some eyes with its affordable cost.
Design
Fashion and style isn't what the Tab A7 is after, even more when it's priced to sell for dirt cheap. Regardless of that, we'll say that the design of the tablet is somewhat predictable. Sporting a plastic chassis that has a subtle soft touch matte finish, it's a pleasant little bugger that doesn't feel super cheapo. Holding it is pretty comfortable too, thanks in part to its rounded edges and the adequate amount of bezel around its display. The Google Nexus 7 is arguably the benchmark we'd use for any entry-level offering, so we're pleased that the Lenovo Tab A7 doesn't come off super inferior with its design.
Display
Being an entry model and all, there isn't a whole lot of focus in its specs, especially with its display. Interestingly enough, out of the bunch announced in the series, this one is actually sporting the highest pixel density count. It's sitting at a modest 216 ppi, attributed to its 7-inch 800 x 1280 IPS LCD display. Indeed, it's nothing stellar in terms of specs, but it's sufficient enough of a tally to at least allow us to view stuff in the web browser with few hassles. Needless to say, we're not terribly astounded by this one – more so when it's donning a bland color reproduction and weak viewing angles.
Interface
In true fashion, the Lenovo Tab A7 is running the same identical customized Android experience we've been seen from Lenovo's line of recent Android devices. Specifically, it's the same cartoony and somewhat simplified interface that first came to light on the Lenovo Yoga Tablet 8 and 10 – running on top of Android 4.2.2 Jelly Bean. Some might be dismayed to see the older build of Android, but we doubt that it'll negatively affect the consumer base it's trying to appeal to. Although it's nice that they're trying to simplify things, like removing the apps panel entirely, the homescreen becomes a jumbled mess of icons.
Processor and memory
Nowhere close as intimidating as the latest piece of silicon from Qualcomm's camp, the Lenovo Tab A7 is powered by a quad-core 1.2GHz MediaTek MT8125 processor coupled with 1 GB of RAM. Again, we have to emphasize that isn't a beast in the greater scheme of things, but nevertheless, most people will be pleased by its smooth responsiveness with basic operations – such as surfing the web or navigating across the UI. Processer intensive tasks on the other hand, like 3D gaming, we bet that it would start to exhibit some strain.
Camera
Generally speaking, entry-level tablets sometimes omit having any cameras from their bodies. Lucky for this one, Lenovo is kind to include some basic ones – a 1.6-megapixel front facing one, and a 5-megapixel rear one. Who knows how they actually perform, seeing that snapping a few from our brief time with it didn't produce anything too spectacular looking at the samples on its screen, but we can imagine that they're not going to be class leading.
Conclusion
Hardcore fanatics do not need to apply here! The Lenovo Tab A7 is a basic offering that'll appeal to those consumers who don't want to spend a fortune on something extravagant. This is as basic as it can get folks, especially when you glaze over its specs. Basic users will appreciate the consumptive functionality that it'll provide, but don't expect demanding users to settle with his one. Heck, at least its $129 cost won't burden you down in the wallet.