Lenovo Tab A10 hands-on
3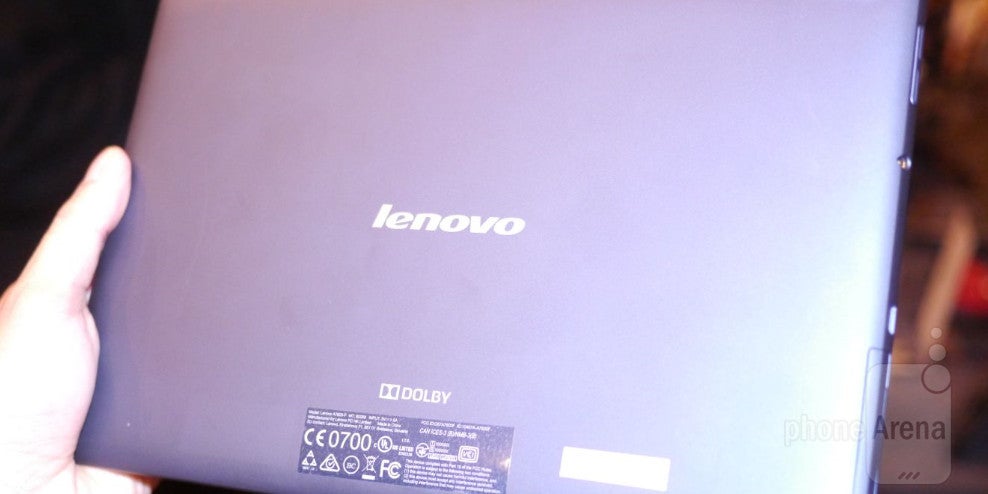 After scoping out the Lenovo Tab A7 and A8 tablets during Pepcom's DigitalFocus event in New York City the other night, we finally came to the largest sized tablet in the newly announced A-series – the aptly named Lenovo Tab A10. Being a part of the '
full-sized
' tablet segment, it's naturally going to contend with some big named devices in the space. Then again, it's out to appeal to those who adore the size, but don't want to spend more than $300 on a full-sized offering
Design
Well, this isn't all that surprising! When you're being produced for dirt cheap, style and fashion aren't going to be points taken into account with the design of a tablet. Looking at the Tab A10, it sports the same identical design language we've seen with the Tab A7 and A8, but in a larger size of course. Modesty is something we can vouch that the A10 is after, seeing that its plastic chassis has a pleasant soft touch matte finish to it. Fortunately for this one, even though it lacks any attractive elements with its design, it's at least very pleasing and comfortable to hold in the hand.
Interestingly, the Lenovo Tab A10 is the only one in the series to gain an optional keyboard accessory. Forking over $50 to pick up the optional keyboard dock, it sprinkles on a convertible design that turns the tablet into a laptop-like computing device. Not only do we gain a full QWERTY keyboard for better input, but the keyboard dock also doubles as a useful and sturdy folio case to store the tablet in for easier traveling.
Display
Yikes! Factoring in its 10.1-inch screen and 1280 x 800 resolution, the Lenovo Tab A10 settles on having a below average pixel density figure of 149 ppi. It's hardly a number to raise eyes, but nonetheless, we have to point out that it's sufficient enough for basic use – such as surfing the web with ease. We're inclined to say that it's deplorable, especially with its bland color reproduction and weak viewing angles, but for the target audience it's trying to go after, it doesn't surprise us that there isn't a huge focus on its display.
Interface
Forget about being subjected to cool secondary software features or a visually pleasing look with its Android experience, seeing that the customized Android 4.2.2 Jelly Bean experience of the Tab A10 is basically going after simplicity with its approach. Some folks might not be too distracted by the minimalist effort with the experience, but hey, people appreciate not being overrun with a variety of things with the experience.
Processor and memory
Under the hood, the Lenovo Tab A10 is powered by a quad-core 1.3GHz MediaTek MTK8121 processor coupled with 1GB of RAM. Needless to say, it's not a piece of silicon we'd drool over, but we're happy to report that its performance is at least responsive with basic tasks. Intensive tasks on the other hand, you'll probably find yourself biting down on your fingernails as you wait in anticipation for it to catch up.
Camera
Generally speaking, entry-level tablets sometimes omit having any cameras from their bodies. Lucky for this one, Lenovo is kind to include some basic ones – a 2-megapixel front facing one, and a 5-megapixel rear one. Who knows how they actually perform, seeing that snapping a few from our brief time with it didn't produce anything too spectacular looking at the samples on its screen, but we can imagine that they're not going to be class leading.
Conclusion
Who in the world would want to pick this up, especially knowing that there are several models with specs in them that are more prized? For starters, we need to point out that the Lenovo Tab A10 is priced to sell to those on a budget with its hard-to-miss price point of $250. Throw in another $50 to pick up the keyboard dock/case folio, you'll grab yourself a basic mobile computing device that has some pretty good value in it.