Lenovo S90 "Sisley" now official with a shameless, iPhone-like presentation
62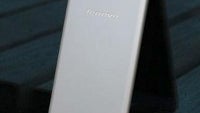 If you thought that the practice of copying Apple was limited to mostly no-name manufacturers, then you were probably surprised to see Lenovo, the world's third biggest handset maker by market share, chime in. We're, of course, referring to
the Lenovo "Sisley" S90
, a shameless copy of the iPhone 6, save for some minor differences in design.
But obviously that wasn't enough for Lenovo, for the way the S90 was presented on its website also reminds an awful lot of the way Apple presented the new iPhone 6. And when we say "reminds", we really mean "copy" – from the angles at which device renders are showed off, down to the chosen highlights, all of it looks a whole lot like Apple.
For those of you who wonder, the S90 is otherwise a decent device. It's got a 5-inch, 720p AMOLED screen, a super-thin, 6.9mm body, a quad-core Qualcomm processor, and 1GB of RAM. The shooter at the back is a 13-megapixel unit and there's also a generous, 8-megapixel selfie snapper at the front. The device is powered by Android 4.4.4 KitKat and will retail for 1,999 RMB in China (~$327 equivalent).