Et tu, Lenovo? Lenovo Sisley might be the most blatant iPhone 6 ripoff from a major maker
84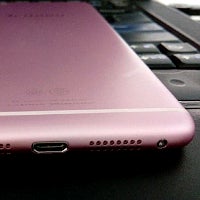 When it comes to iPhone imitations we usually look with scorning stare to China, but it's typically small, third-tier, or offbeat manufacturers that are making them with the sole idea of making an iPhone imitation. Enter Lenovo, the world's fourth largest handset maker, and its purported upcoming Sisley midranger.
As you can see in the leaked photos below, the Sisley kind of reminds us of one particular handset, and from all angles at that. From the known specs, the phone is housed in a metal chassis, and is listed with a 13 MP rear camera, as well as a respectable 8 MP front-facing shooter with what looks like an adjoining LED flash.
Given the color choice, the souped-up selfie camera, and the naming of Lenovo Sisley after a French designer brand, we'd wager to guess that the phone might be geared towards the female audience, but let's wait and see if and when Lenovo announces the thing. As for the device's dimensions - the Sisley is said to be the remarkable 6.9 mm thin, or precisely as much as the iPhone 6, for some reason.