Lenovo Miix 2 10 tablet hands-on: innovative dock slot and a subwoofer
4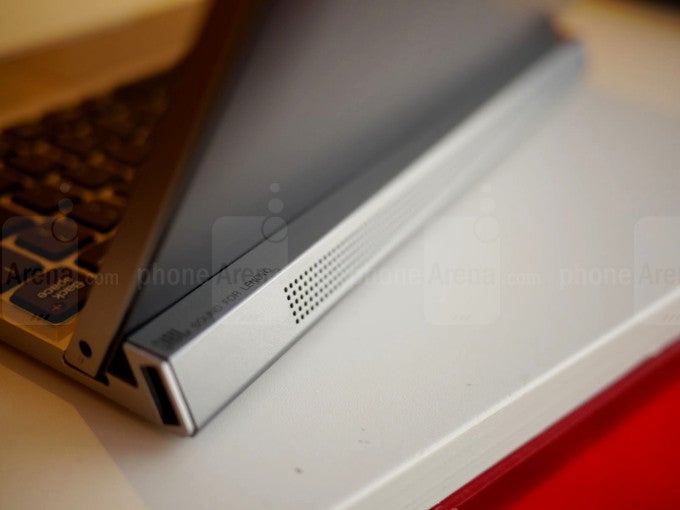 Lenovo Miix 2 10 tablet flaunts an innovative two-way dock slot, JBL speakers and a subwoofer
Lenovo keeps churning out
amazing computers at rock bottom prices
, bent on keeping its largest computer maker title, and eating the market share on much more established names. This CES 2014 edition was used by Lenovo to further solidify that trend, and after having a brief hands-on with the new members of the Miix tablet line, we are convinced Lenovo is nailing what Windows 8.1 is all about better than most other companies out there.
Design
The new Miix 2 slates feature a detachable AccuType keyboard and a 10.1'' and 11.6'' 1080p displays, respectively. Here we are handling the 10-incher, which is the more compact 10.27 x 6.82 x 0.36 inches (260.9 x 173.2 x 9.2 mm), and portable 20.80 oz (590 g) endeavor of the two. Lenovo again comes up with an inventive design, letting you "slot" the tablet part at the edge of the keyboard dock both ways, so you can type something with the screen staring at you, or turn it around, using the keyboard part as a stand, and watch movies or use touch for browsing. We have to see that the alternation is seamless and easy, while the keyboard itself has good tactile feedback, as far as such shallow units allow.
Display
The 10.1" 1920x1080 pixels screen is a beauty, as it features solid color representation, deep blacks, and good viewing angles, but is somewhat too reflective in direct light. It looks bright on the show floor in Las Vegas, but we'll reserve judgment until we put it through the screen benchmark paces. Having at least a Full HD screen seems to be a must these days for a good tablet to even be considered for purchase, and Lenovo doesn't disappoint, which is commendable, given that a lot of larger laptop screens are still shipping with HD resolutions only.
Processor and memory
The hardware inside has gone through a downsizing procedure, compared tot he Miix 2 11, and the 10-incher is equipped with a quad-core Intel Atom processors, with 2GB of LP-DDR3 RAM on board and up to 128GB of internal eMMC storage with an option for microSD expansion. Of course, you can't run anything serious on this setup with good results, or play heavy games, but for browsing and media consumption, as well as peripherals compatibility, the Windows 8.1 machine will be perfectly adequate. On the plus side, this frugal processor will secure you up to 10 hours of HD video playback on a charge, which is an important feat for a media machine.
Connectivity
A true Windows tablet, the Miix 2 10 pays homage to the usual stack of connectivity options, like Bluetooth 4.0, Wi-FI 802.11a b/g/n and an optional 3G version, and also a mini HDMI port, a micro USB port, and two additional USB 2.0 ports on the keyboard dock.


Camera

Two 720p shooters have been integrated into the Miix 2 10 – a 5MP unit on the rear, and a 2MP one at the front for the occasional video call.
Expectations
The 10-incher will become available in March and will command a price tag that starts at $499. It is not a bad price for the specs, but it is not something that will immediately make it go out and buy the Miix 2 10, either. The benefits you are getting for half a grand, which can typically get you any good Android or iOS tablet, are that Lenovo's contraption is running full desktop-grade Windows 8, if you need some of its powerful programs and peripherals support. Moreover, it features more storage than the typical mobile OS tablets, JBL speakers plus a subwoofer, and an innovative dock that allows you to slot the tablet part both ways, depending on whether you'll be predominantly using touch or type.