Lenovo IdeaPad A1 Hands-on
7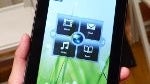 When you hear about a tablet that's priced at $500, it might not garner much attention as it did before, but when you hear $199.99, then your ears really begin to hone in on something good. Naturally, that's the response we're seeing with the
Lenovo IdeaPad A1
as it's able to attract bystanders with its Android experience – though, it's nice to know that it doesn't require a wealthy investment to own.
Not surprisingly, for a
7" tablet
that's competitively priced at
$199.99
, it sports a very humble and conventional design that doesn't go outside the box – and in fact, its looks reminds us of the original Samsung Galaxy Tab. Rather, it's able to engulf consumers with its delectable palette of available paint jobs, which include blue, white, and black. However, you get a sense of cheapness with its construction since its plastic exterior doesn't radiate that sense of durability.
Nevertheless, we're talking about a $199.99 7" tablet that offers all the amenities of the Android experience –
Gingerbread only
though. As much as some people will be tempted by its ridiculous price point, it's confirmed that it will only be staying put with Gingerbread as its platform of choice – with no intent on bringing Honeycomb officially to it.
Forking over $200 to pick up the Lenovo IdeaPad A1, you get a tablet that features a 7" display with a resolution of 1024 x 768, 1GHz single-core processor, 512MB of RAM, 8GB of internal storage, 3-megapixel rear camera, front-facing camera, microSD card slot, Wi-Fi, and Bluetooth 2.1 with EDR. Sure it's packing a stock Android 2.3 Gingerbread experience, but unlike some of those wonky and unknown Android powered tablets out there, you have the Android Market to download and install all the apps that your heart desires.