Lenovo IdeaCentre Horizon Table PC hands-on
6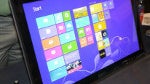 At tonight's
Pepcom event
in the Big Apple, where many companies were in attendance showing off their latest products, we passed through the Lenovo booth and took notice of one peculiar thing that really caught our attention. Lying flat on its back, we thought that we were looking at a giant-sized tablet being shown off, but in fact, it was none other than the all-in-one PC in the
Lenovo IdeaCentre Horizon Table PC
.
Sporting one cool futuristic looking interface, the Lenovo IdeaCentre Horizon obviously had our attention glued to it! Honestly, the interface and various gestures employed by Lenovo's UI made it seem like it came out from the movie "
Minority Report
." Still, this
27-inch 1920 x 1080 display with 10-point multi-touch technology
packing behemoth was a sight to behold – especially as it laid flat on its back ready for some social game play. In terms of specs, it's no doubt a powerhouse in every way imaginable, as it features a 3rd generation Intel Core i7 processor, up to 8GB of RAM, 1TB hard drive, Windows 8, 720p HD camera, dual-speakers, and the usual host of ports you'd find on any PC.
The more we looked at the Lenovo IdeaCentre Horizon, the more we kept thinking about its portability. Needless to say, some will easily mistake it for a tablet, but don't start thinking that this is something that we can lug around in a backpack. Furthermore, its usability on the road is limited to a mere
2 hours of battery life
, which is miniscule in the world of tablets, but something we'd imagine that's decent when we factor in its beefy hardcore and ginormous screen.
Ultimately, we find ourselves circling back to its
spiffy looking UI
, which is something that Lenovo has brought together from the ground up. When it's tilted flat in its optional multi-mode table accessory, it jumps straight into its "
aura
" interface, which has a circular sized main menu that we can use to navigate through its various functions. We don't want to spoil the fun, but the video below shows exactly what it's capable of doing – especially when it comes to being social and playing games. In terms of pricing, there are various configurations that will be available when it's launched soon, but from what we're told, this core i7 model that we scoped out flaunts a price tag of roughly
$1,700
.