Lenovo Idea Pad Yoga 2 Pro takes on the ATIV Q with 3200x1800 pixels, keeps it bendy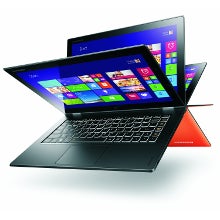 You no doubt remember Lenovo's innovative
IdeaPad Yoga
contraption, that was a harbinger of the good things to come with Windows 8's touchy feely interface by bending it 360 and becoming a tablet.
Well, that swiveling
motion
just got an upgraded host with the Idea Pad Yoga 2 Pro, and it is even lighter and thinner than before, while housing a breathtaking 3200x1800 pixels 13.3" display, which makes it a direct competitor to the current king of Win 8 convertibles, the
Samsung ATIV Q
.
Idea Pad Yoga 2 Pro weighs just 3 pounds, and is only 15mm thick, making it ideal for lugging around the full power of Windows 8 in a shapeshifting format. We get a backlit keybaord this time, which is a very welcome upgrade, and the internals don't disappoint, either - your choice of several frugal 4th-gen Intel Haswell chipsets, 8 GB of RAM, and up to 512 GB SSD. There is also Bluetooth 4.0 connectivity, one USB 3.0 and one 2.0 ports.
Lenovo cites up to nine hours of battery from the Yoga 2, which is decent for a Haswell-powered device, considering the ultra high screen resolution and shrunk body plus weight. The ultrabook convertible will start you off with a $1099 price tag for the basic model when it arrives in the holiday quarter.
Lenovo Idea Pad Yoga 2 Pro