Lenovo IdeaPad Yoga 13 hands-on
3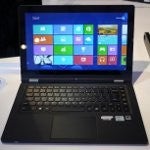 Always expecting shifts in the computing landscape, ultrabooks have seemingly become the next profitable thing in the space, which has been evident by the enormous amount of models saturating the market since last year. In an attempt to mix things up a bit,
Lenovo
has introduced its highly popular convertible style ultrabook last fall in the
Lenovo IdeaPad Yoga 13
– an ultrabook that converts into a tablet. Sporting a very different design, the Yoga seems to
twist and bend
into any form to make it an interesting ultrabook that's sure to be memorable.
At first glance, it's hardly noticeable that the Yoga is any different from other ultrabooks currently in stores, but after fiddling around with it for some time, it's pretty cool that its screen is able to tilt all the way back to transform into a tablet. Sure, it's larger and somewhat more unwieldy than some of the normal slates out there, but it's wonderful to know it's packing the usual arsenal of ports we'd expect from a laptop – plus, a very
convenient full QWERTY keyboard
.
No need for stands with this one! Why's that? Well, the Yoga can actually prop itself thanks to its
tent mode
– so it's hands-free viewing when it comes to watching movies. In a world filled with 1080p displays, its
13.3-inch 1600 x 900 IPS display
might not astound people, but nevertheless, it's detailed enough to make out fine details with little issue. Depending on the model, it's available in 3rd generation i3, i5, or i7 configurations, which make it ample enough to execute basic operations with minimal fluff. Throw in a 128GB SSD with an
average battery life of 8 hours
, it should make it quite an appealing options for those looking to consolidate a laptop and tablet.
With a starting price point of
$1,000
at retail outlets like Best Buy, some people might view it as the all-in-one solution. Above all, it's the bending ability of the Yoga that really makes it a compelling offering that's nothing like the other ultrabooks on the market right now.