Leakster suggests the next Lumia flagship will be metal-clad, slim, and powerful
16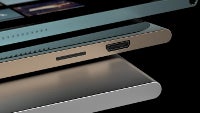 It's been quite a while since we've seen a Lumia flagship. The last one to come out was the Nokia
Lumia Icon
/
930
, some time before the Microsoft
acquisition
of the Finland-based company became final. Ever since Lumias have been rocking the Microsoft name, we've only seen budget-oriented entry level and midrange devices.
Redmond has said that it will be announcing another flagship
after it launches Windows 10
, and it makes sense. Since the company boasts the OS update to be the greatest thing to happen to Windows, it's only natural it wouldn't want to release a top-shelf device that's rocking the older software just months before the new one's release.
So, the supposed Lumia 940 (speculated name, based on Lumia naming scheme) is still shrouded in mystery – and there are a lot of questions to be answered. Will Microsoft choose to go with a refined design, rather than the pointy rectangle we're used to? Will it go full-on metal or keep the vibrant-colored plastic back panel? Will it pack bleeding-edge hardware, or will it dial it down a bit, based on how confident Microsoft is in its Windows' resource management? And, last but not least, when could we expect a possible release?
Well, a Twitter leakster has posted an image some hours ago, which is all warped and squished, but seems to promote an upcoming Lumia, which will apparently rock quite a bit of metal on its body. The tweet says that the handset will be slim, too, which could be a welcome change, compared to the slightly bulky Lumias we have now, but we hope it doesn't come at the expense of battery life. According to the leakster, "it's going to be a hot Autumn" for Windows Phone fans, which could mean that Microsoft may be planning an unveiling at the September IFA. Though, that's pure speculation on our part.
Thanks for the tip!
Slim,Strong(GG4) and FAST like no others...WTH is THAT? :) W10 fans,ready for an hot Autumn? #lumiapic.twitter.com/MXxrSkjN5x

— Ricciolo (@Ricciolo1) July 7, 2015