Leaks-based Moto G2 teaser and new photos sum up the major upgrades of Motorola's next budget phone
43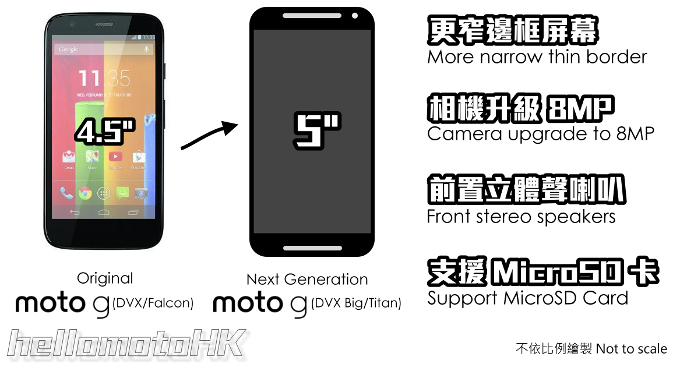 Word on the street is that Motorola's September 4th event will see the announcement of several important devices that the now Lenovo-owned company will use to reinforce its positions. Among those are the high-end Moto X+1, the Moto 360 smartwatch, and, of course, Motorola's next budget solution -- the Moto G2.
Now, it's fair to say that the Moto G2 has received decent amounts of attention from leakers and the media on the whole. This almost surely has to do with its predecessor's success, which wasn't surprising considering it is still likely one of the very best buys in its price tier. In any case, a bunch of new snaps of the Moto G2, courtesy of
Hellomotohk
, are now available, and the folks behind the dedicated Facebook page have even worked up a small teaser that sums up the major upgrades over the soon-to-be-replaced Moto G.
As you can see for yourself, those include narrower bezels for a better screen-to-size ratio, a 5-inch, 720p screen; a higher resolution, 8-megapixel camera; a set of front-facing stereo speakers; and even a slot for a microSD card (that was unfortunately non-present with the Moto G). Lastly, the Moto G2 will come with a removable back plate, so you'll be able to customize its looks with Motorola Shells, too.
The rest of the rumored specs include a quad-core Snapdragon 400 SoC, 1GB of RAM, and 8/16GB of internal storage.