Leaked memo says Google Wallet to launch on Monday
2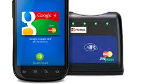 A leaked memo reveals that
Google Wallet will launch on Monday
. As we
reported
, Google has already started teasing the service using Seinfeld's George Costanza to show the usefulness of the application. Google Wallet allows you to pay for services by simply tapping on your phone at retail outlets outfitted with a PayPass Station, thus
eliminating the need for you to have to reach into your wallet
to grab a credit card or cash.
Currently, the service works only for PayPass enabled Citi MasterCards and the app can be downloaded only on the
Google Nexus S 4G, running on Android 2.3.4 and branded with the Sprint name
. Google would love to expand the application to other cards besides the Citi MasterCard. and phones besides Sprint's Google Nexus S 4G. Also, retail outlets need to be outfitted with the PayPass Station.
Just because the Google Wallet app appears ready to launch on Monday, don't expect to
be using this service immediately
. The number of stores that will be ready to accept Google Wallet will hopefully increase sharply in time for the launch of the Mountain View based firm's next flagship device, the Samsung Galaxy Prime aka Samsung Galaxy Nexus aka DROID Prime which will also support NFC and as a result, Google Wallet. As
we told you
yesterday, that phone is rumored to be launching November 3rd.
Another good reason to suspect the launch of the service tomorrow is that Monday also
brings the opening of the NFC World Congress
in the French Riviera.
source:
TechCrunch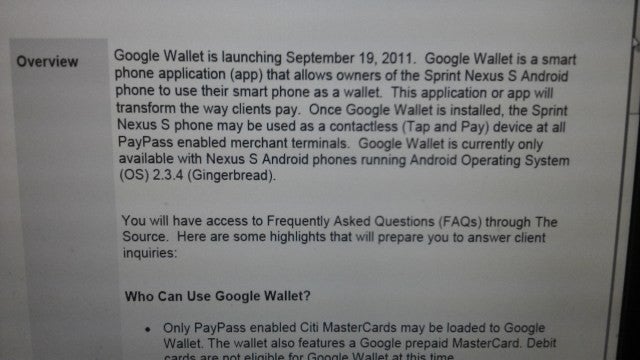 This leaked document says to expect Google Wallet to launch on Monday