Leaked file for the CDMA X Phone confirms a Snapdragon S4 Pro again
19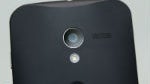 We're really not sure why the rumors persist that the upcoming Motorola X Phone could have a Snapdragon 800 in it. It seems like blind hope from Android fans driving the rumors at this point. We have an
inside source
saying that the X Phone will be running the Snapdragon S4 Pro, and now we have leaks from two different variants of the device that confirm that information. All that, and we haven't even mentioned that the Snapdragon 800 is
just getting revved up
for mass production, meaning there is little chance we would see it in a device slated for a July release anyway.
The last time we saw the X Phone, it was the
AT&T variant
, which showed up in some benchmarks. The benchmarks data labeled the GPU of the device as the Adreno 320 and the board as the "MSM8960", which matches the Snapdragon S4 Pro. This time around, it is the CDMA variant of the device (remember the X Phone is expected to be released on all major carriers in the US), and the leak comes from an .ini file pulled from a Motorola driver pack. It's unclear if this is the Verizon or Sprint model of the X Phone, but it does label the processor as the "MSM8960CDMA", which again matches the Snapdragon S4 Pro.
We understand that you may want the Motorola X Phone to be the next spec-busting superphone, but all signs are saying that will not be the case. It seems like time to face the facts. This is not the Google phone you're looking for. This is the last of the Motorola pipeline, and it's best to just set your sights down the road.