Leaked document suggests mid-March debut for Palm Pre at Sprint
This article contains unofficial information.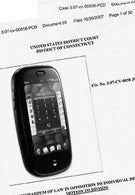 The highly anticipated launch of 2009 could be as soon as next month according to leaked documents. The Palm Pre could be in Sprint stores as soon as mid-March according to an unofficial End-of-Life document. This list is sent out to Sprint employees to alert them to the models that are going to be phased out as well as the in-stock dates for new models. The document suggests that the Pre will be a replacement for the blue Palm 755P. At the same time, the Treo Pro is expected to replace the Palm 800W and will launch around February 15th.
The huge excitement surrounding the Pre started from the moment the device was unveiled at the recent CES. With a brand new OS, the unit features a 3.2MP camera, GPS, Wi-Fi, and a full HTML browser. The multi-touch gestures used on the web browser resemble the gestures used on the iPhone's Safari browser. The resemblance is so close that Apple last month revealed their patent for some multi-touch applications, a development that some felt could delay or even prevent the release of the Pre. But if the leaked documents are for real, get ready for the biggest smartphone launch of the year to date around March 15th. Can you feel the excitement?
source:
BGR