Leaked HTC training document tells reps that the HTC One (M8) is better than the Samsung Galaxy S5
99+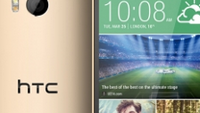 An HTC training document, used to show sales reps how to push the
HTC One (M8)
, has leaked revealing HTC's game plan to sell the device. It seems that the Taiwan based manufacturer expects the biggest challenge to come from the
Samsung Galaxy S5
, and as a result, HTC lists five reasons why the HTC One (M8) is better than the
Samsung Galaxy S5
. The first reason is that "metal beats plastic" and HTC says that premium phones should be metal. HTC adds that while Samsung was content to stick with plastic, HTC pushed itself and added more metal to the OG
HTC One
.
Other reasons include the two powerful front-facing Boom Speakers, 25% louder than the speakers on the previous HTC One model. The third reason that HTC is telling reps that its new flagship is better than Samsung's new flagship, is Motion Launch. This supports one handed use on the HTC One (M8), as you can open an app with a single swipe. Next, the Duo camera allows you to add effects before or after you take a picture, while Ufocus allows you to decide which part of a photo to focus on. Lastly, HTC Advantage allows users to have one free cracked screen replacement within 6 months after buying the phone.
"While Samsung was content to stick with a plastic body for their phone, we pushed ourselves further with even more metal on the M8."
-HTC
The documents also include a page devoted to other features that no self respecting salesman worth his commission should ever forget. Like BlinkFeed, your social media and newsfeed screen. Another feature HTC brings up is pause and go video. This allows you to stop shooting video, and pick up later exactly from where you left off. If you recently checked out the HTC One (M8) at your local carrier or tech retailer, no doubt the guy or gal helping you spouted some of these very reasons why you should buy the handset.
source:
HTCSource
via
AndroidandMe