Launch date for ThunderBolt 'coming soon' says HTC
30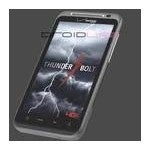 The number one question on everyone's mind in the cellphone world is, "When will the HTC ThunderBolt launch?" We started with dates toward the end of February and then moved into the first week and a half of March. Just the other day, we
reported
that HTC's Facebook page had hinted at a March 21st release of Verizon's first 4G device. Now, the manufacturer's Facebook site has a little note telling us that a launch date will be coming soon. The site says, "There is a lot of excitement about the first Verizon LTE device, the HTC ThunderBolt. HTC and Verizon will officially publicly announce the ThunderBolt launch dates soon. Please stand by for the launch of this great new device."
It all sounds like a company desperately trying to buy some time. By making this comment, HTC has removed the speculation about a possible launch date. At the same, by still describing the phone as being Verizon's first LTE handset, the Taiwan based manufacturer is also letting everyone know that the ThunderBolt will get released before any other Big Red bound LTE model. In very subtle language, HTC is telling those who have speculated that the Motorola Droid Bionic, or any other upcoming LTE enabled model, would end up as the carrier's first 4G phone are wrong.
source:
Facebook
Thanks, anonymous tipster!