Latest speculation on Apple iPhone 5 includes 3.7 inch screen and complete redesign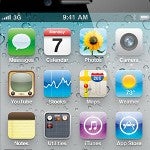 Recent talk was that the Apple iPhone 5 would have nothing more than minor tweaks made to it when compared to the iPhone 4. Many were saying that the Apple
iPhone 6
for 2012 would be the model with a major design change. Challenging that speculation is Joshua Topolsky of
This is my next
who said on Friday that his sources are telling him that the iPhone 5 will have a major redesign. Just to make things clear, this sources struck out when they told Topolsky that the Apple iPad 2 would launch in April with a high resolution screen, dual mode GSM and CDMA radios and an SD card slot.
Nonetheless, for those who are interested, the Apple iPhone 5 is expected to have an expanded home button that will double as a "gesture area". The screen, now 3.7 inches, will be spread out from
edge
-to-edge. The resolution would remain the same which would lower the ppi from 326 to 312, but would still be above the 300ppi line that allows Apple to call it a "Retina Display".
According to Topolsky, "Our sources say the new model (or at least one of the new designs in testing) looks "more like the iPod touch than the iPhone 4." The phone will be thinner than the iPhone 4, and may have a "teardrop" shape which goes from thick to thin (something along the lines of the MacBook Air profile)." He also said that art work he has seen about the project would indicate some sort of inductive charging and also reports that the device will be a world phone with both a GSM and CDMA radio. This last item dove tails with our
earlier report
that Verizon expects the iPhone 5 to be a world phone.
Topolsky's report contradicts Concord Securities analyst Ming-Chi Kuo. As we
reported
, the latter has sources who have been pretty accurate lately and he has said this past week that the iPhone 5 will be very similar to the current iPhone build.
source:
Thisismynext
via
AppleInsider