LTE version of AT&T's 64GB Microsoft Surface 2 to be released tomorrow
10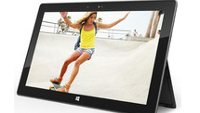 Last week, we told you to expect
AT&T to soon release a 64GB 4G LTE version of the Microsoft Surface 2 tablet
. We even revealed that the tablet would be priced at $679. Well sure enough, tomorrow the very first Surface tablet with 3G/4G connectivity will be available and the price is exactly as leaked. That works out to a $130 premium compared to the $549 that AT&T is asking for the 64GB Wi-Fi only model.
While you won't have to put yourself into a pair of two-year handcuffs to purchase the table for $679, you will need an AT&T micro-SIM. And yes, that means that a T-Mobile micro-SIM should also do the trick, since the two operators share LTE band 4 and 1900MHz (3G). But since T-Mobile is not officially supporting the tablet, if you go this route you will miss out on updates, bug fixes and the like. And even with the new LTE support, the tablet gives you the same 10-hour battery life it offered on the Wi-Fi only model.
Even though the slate is branded with the AT&T name and runs on the AT&T 3G and 4G LTE network, the device can be purchased Tuesday only from Best Buy, Microsoft Stores and MicrosoftStore.com. You cannot buy it from AT&T. But you will receive some freebies like 200GB of free OneDrive storage for two years, and a year of unlimited Skype WiFi calling and landline calls.
We should also point out that the exact name of the tablet is the "Surface 2 (AT&T 4G LTE)." And yes, as we stated above, it does come with 64GB of native storage. Enjoy!
via:
Engadget