LTE-free LG Nexus 4 showing some poor battery life against iPhone 5 and other Android superphones
58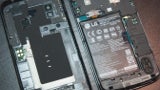 The
LG Nexus 4
is a great deal in the US considering its super-low off-contract price of $299 through the Google Play Store, as well as its superb hardware like the Snapdragon S4 Pro chipset and 2 gigs of RAM. But it turns out the handset might be a bit less competitive when it comes to its battery life.
AnandTech has conducted a series of tests, which seem to prove that the Nexus 4 is struggling to offer battery life similar to that of its rivals. For example, a web browsing-based test measuring the battery life on 3G and LTE shows the LTE-free Nexus 4 achieving the modest 4.18 hours. In comparison, the LTE-powered
iPhone 5
leads the chart with the healthy 8.19 hours. Major Android handset, like the
One X
and
GS III
also fare better than LG's creation.
When doing the same test over Wi-Fi connection, the Nexus 4 once again scores poorly with 6.27 hours, bested by the iPhone 5 with 10.27, One X (AT&T) with 9.93 and others.
So, it turns out that even without LTE, the Nexus 4 may have a bit of a problem with its battery life. Although it's less than impressive, though, we're sure that the handset will be able to stay powered for at least a day with a full charge, though you might want to keep that brightness slider somewhere closer to the middle.
source:
AnandTech
via:
AndroidAuthority