LTE-Advanced test in Korea shows what 4G is all about (600Mbps download)
12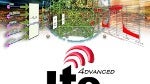 A few months ago we told you about a
certain LTE test
in Sweden, during which the researchers "witnessed the theoretical peak throughput of a Category 3 device (102.05 Mbps) without even trying".
This news certainly had "a wow effect" on many of us back then, but it doesn't sound that impressive now, as researchers from Korea's Electronics and Telecommunications Research Institute (ETRI) put a demonstration of LTE-Advanced.
And it didn't disappoint,
downloading a 700MB file for 9.3 seconds
. This leaves little doubt that when LTE-Advanced becomes widely available (its deployment in South Korea is expected to take place in 2014), it may achieve the legen-wait-for-it-dary
maximum of 600Mbps download speed
, which doesn't sound too bad to us.
If we put aside all the hype
what's 4G
and what's not 4G, the bottom end is that this is the kind of speed we want to see.
source:
Telecoms Korea
via
Engadget