LG wanted the Nexus 5 to be called the Nexus G
61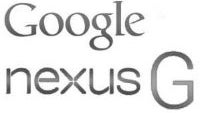 In general, Google has stayed away from highlighting the manufacturer that has produced its Nexus devices. In fact, on the Play Store, devices are listed only as Nexus 5, 7, or 10. It's only in news posts that you will see it labeled as the Google Nexus 5. The one exception has been Samsung, which had the S of Nexus S as a reference to the Samsung Galaxy S line, and the Samsung Galaxy Nexus.
A new report is saying that LG wanted to get a bit of branding with the new Nexus 5.
Chosun Ilbo
, a major Korean newspaper, is reporting that LG wanted the device to be sold as the Nexus G as a reference to LG's line of devices. LG of course loves that G and has used it for the Optimus G, the G2, the G Flex, and the G Pad.
Google obviously nixed the idea, but it would have made sense. Not only would the G have served as a reference to LG's devices, but also to Google itself. There's a fair chance that the G in the name Moto G is a reference to Google itself, so maybe that's why Google didn't want to have the Nexus named that way.