LG to focus on design with its future low-end handsets
4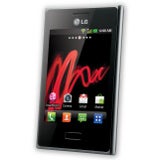 During
MWC 2012
, which took place last week, we had the chance to spend some time with a number of great individuals straight from LG's R&D team. Thankfully, those guys shared some really interesting details with us.
One of those things has to do with the company's entry-level phones and how they look. Basically, we were told that most of the upcoming devices in this specific segment will fall under the hat of the new
L-Style design philosophy
, which will guarantee their appealing appearance. Of course, that's if you're into rectangular shapes with metallic accents. We, personally, like this particular design language and are happy to hear that LG will be paying attention to design even in its lower-end devices.
Normally, we know that the less a user pays for a handset, the less value they get in whatever aspect – be it performance or looks. LG's intention here is to continue offering dirt-cheap phones (besides their higher-end models), but ones that actually do not look dirt-cheap. Well, that's absolutely okay with us, and judging by the new
LG Optimus L3
, which is the best example we can give right now, the company seems to be doing a good job in this respect.
What do you think about LG's intention to deliver good-looking low-end handsets? Should other manufacturers follow suit?
source: LG