LG swings back to profit as phone division cuts losses sharply in Q2
2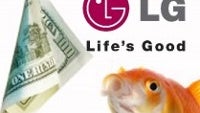 LG has reported its financial results for the second quarter and they are better than expected: the Korean company registered nearly $100 million net profit (108 million Korean won) in the second trimester of the year, swinging back to profit after two consecutive quarters in the red. While most of the company's profits are attributed to HD TV sales, the
cell phone department has cut its loss
nearly in half to $52.5 million (55 billion won), down from some $114.5 million (120 billion won) in the same period last year.
The next quarter prospects however are not exuberant –
LG has cut its smartphone sales
target
for the year by 20% to a total of 24 million units, while cell phones sales in general are expected to end up a quarter less than initially expected at 114 million units. Nonetheless, analysts expect the company to enter a course of slow comeback, with profits growing slightly but steadily thanks to new technologies like 3D TVs and the wider popularity of high-end smartphones.
Actually, the cell phone division of the company has registered its
narrowest loss in five quarters
. Competition in the smartphone segment however is stronger than ever with Apple taking over as the world's biggest smartphone maker and Samsung expected to come up as a close runner-up.
In the high-end segment, LG put its stakes on the dual-core
LG Optimus 2X
, the first to feature a dual-core processor, and most recently on the
LG Optimus 3D
. The company believes that the market for three dimensional devices will grow in scale next quarter and expects to sell 1.7 million units of the Optimus 3D by the end of the year. Actually, it's the growing 3D niche which might allow LG to make a comeback as it can combine both its strong display insight with its phone business. What are your impressions of LG's most recent devices and what clue do they give you for the company's prospects?