LG's patent for a foldable phone shows device has two screens, batteries and headphone jacks
9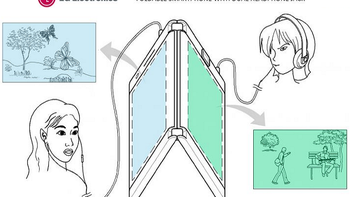 Back in 2016, LG filed a patent for a phone that not only is equipped with two screens, but also comes with a pair of batteries and two headphone jacks. The patent was filed on September 28, 2016 and published today, thanks to the World Intellectual Property Organization (WIPO). The patent is titled "Mobile Terminal," and both screens are curved allowing the side of the phone to display the date and time, temperature, and other notifications.
The images that accompany the filing show hinges at the top and bottom of the device which allow the two individual screens to open and combine to form one large display. When the device is folded, the two screens can be used independently of each other. In one mode, the two displays can be used to simulate a book as the user reads through one screen, turning to the second one as though he were going from page to page. When the device is partially folded, two people can watch different videos at the same time, with each using their own headphone jack to hear the audio in private. Even though the patent application was filed in 2016, the first screen features an under-display fingerprint scanner, and both housings feature their own digital camera and their own battery.
So add LG to the list of companies that have patented a version of a foldable phone or tablet. Just recently
we added Huawei to the list
along with Samsung,
Apple
and
Microsoft
. The
foldable Samsung Galaxy X could be unveiled early next year
. LG is apparently making its foldable phone a multimedia focused device that will allow two people to view (and listen to) different videos at the same time without disturbing each other (see the image at the top of this story).
source:
LetsGoDigital
(
translated
)
Recommended Stories