LG patents a strange smartwatch/stylus hybrid
4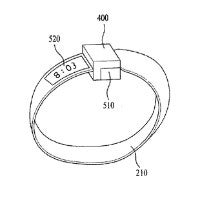 No one is quite sure what to do with wearables, but companies are dead set on making sure that wearables are the next big thing. The vast majority of the efforts are going into smartwatches and fitness bands with a bit of work going towards head-mounted gear like Google Glass and its clones. Given that no one is sure what to do, there is bound to be experimentation, and as we've seen with the
G Flex
, LG is a company open to experimentation.
A new patent filing shows that experimental spirit from LG, but it is very hard to imagine this patent becoming an actual device. The patent is titled "Capacative type stylus and mobile terminal comprising the same", which makes it sound like the filing was passed through Google Translate from its original Korean without an English edit. It also doesn't really explain what the device is. Essentially, the device is designed to be a smartwatch/smartband when on your wrist, but a stylus when you take it off.
It is an interesting idea insofar as it would keep you from losing your stylus; but, on the other hand, you have to take off your watch any time you need to use the stylus. Maybe we'll see it on the market at some point, but we aren't getting too excited for this one.