LG-made Android KitKat smartphone currently on sale at Walmart for under $10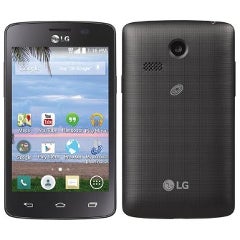 A high-end smartphone will set you back hundreds of dollars, and if you want a top-spec iPhone or Samsung Galaxy, you'll be looking at closer to four figures. With this is in mind, it's no surprise that the market for cheaper handsets is booming, with the likes of OnePlus and Motorola offering powerful alternatives for a comparable pittance. If you're just looking for a spare device and don't wish to part with too much of your hard-earned cash, you could opt for the TracFone Lucky LG16, an Android KitKat 4.4-running smartphone that costs just $9.82.
There are, of course, already many options for ten-buck cellphone shoppers, but more often than not, these are plastered with the rather unseemly 'dumphone' moniker. To yield a
smartphone
-- one made by a recognized brand, no less -- one would ordinarily have to spend
closer to $100
. But Walmart currently has the LG-manufactured TracFone Lucky LG16 for less than ten dollars, and aside from Android KitKat 4.4, the device includes a reasonable assortment of features for the price.
For starters, there's a 3.8-inch display, and under the hood, it's powered by a a 1.2 GHz, dual-core processor. There's a 3-megapixel camera to the rear, which probably won't cut it for Instagram, but for such a low cost, it's rather miraculous that the Lucky LG16 even has a shooter at all. The device includes a microSD card of 4 GB -- a scarce commodity in today's mobile climate of fixed storage -- and there's also 3G support.
While useful for the elderly or as a very occasional spare, this is certainly not going to cut it as a daily driver. Definitely worth having, particularly at such a cheap rate, it could prove a saving grace at a time of crisis. But if you are looking for a capable spare to tide you over, functionality will doubtlessly be crippled on such a low-end device; in which case,
you may wish to survey other options
.