LG has no immediate plans on making WP handsets due to weak sales
44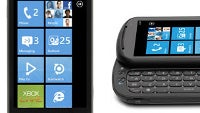 Microsoft might be eager to push its Windows Phone platform in a joint effort with Nokia and some other manufacturers, but it seems that it has lost one of its allies.
LG said it has no immediate plans to make Windows Phone devices
, and will instead shift its focus more fully on Android.
An LG spokesperson admitted that the Korean company will
"continue research and development efforts"
for Windows Phone, but without any actual devices planned for the near future.
The reason?
"The total unit of Windows Phone sold in the global market is not a meaningful figure,"
LG explains. The Korean phone maker remains in a good partnership with Microsoft, but the WP financials don't add up for LG.
At the same time, Microsoft's CEO Steve Ballmer will pay a visit to Korea in late May, and is expected to talk to partners including LG.
LG had one of the better first-gen Windows Phone devices - the LG Optimus 7, which we liked. It also made the LG Quantum, one of a few WP handsets with a full physical QWERTY keyboard.
Another open question that stems from LG's decision to suspend its WP devices, is the role that the Nokia-Microsoft partnership has played. The Koreans mentioned they feel a certain pressure from the deal. Most recently, we've been hearing rumors about Samsung planning to jump on the Windows Phone 8 bandwaggon with a Galaxy S III look-alike. With that in mind, do you think that this could be a good decision for LG, or is the company bailing on Windows Phone at a time when the platform might pick up?