LG flips up a new clam-shell Android phone, the LG Wine Smart
24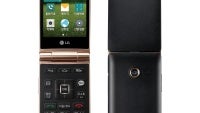 It might be 2014, but there still is a vital community of flip-phone enthusiasts in South Korea. Both Samsung and LG like to address it with new smartphones once or twice a year, which, amusingly, turns them into the last big flip-phone makers standing. LG's latest clam-shell accomplishment is the LG Wine Smart, an Android-powered beauty we'd totally lust after if it was 2004 or so.
Its classy and wholesomely big-buttoned design might be a thing of the past, and the 3.5-inch HVGA (320x480) display is basically a relic. But its internals represent today's mid-range - a 1.2GHz Snapdragon 400 quad-core CPU, 1GB of RAM, and 4GB of internal space run the house, while an 8-megapixel main cam and a 0.3MP front cam work in the photography department. The 1700mAh battery should be good enough for this fella.
Thanks to its up-to-date spec sheet, the LG Wine Smart has LTE Cat. 4, Wi-Fi, Bluetooth 4.0, and has no qualms with Android 4.4 KitKat - styled with the LG G3's brand-new interface at that. It also features a South Korean exotic - T-DMB technology for digital TV, radio, and datacasting.
The LG Wine Smart will launch on September 26 in its homeland, at an affordable price. It will be available in Black and White.