LG extends extra battery and microSD card special promotion for LG G4 customers until June 30th
15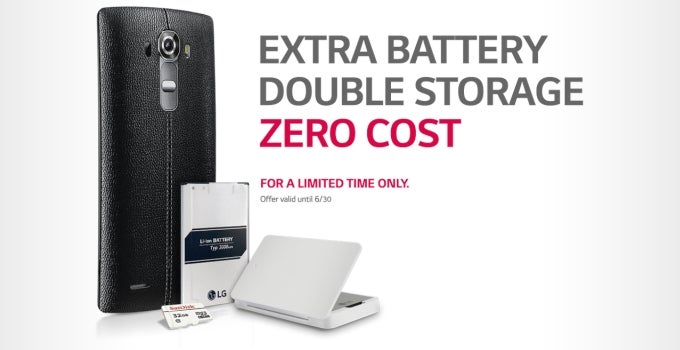 Back when LG launched the
LG G4
in the United States, the company announced a pretty neat special offer available through both carriers and retailers. The company has been offering a second battery and a 32GB card slot with new LG G4 purchases, a deal that basically offers you about $105 worth of goodies. Originally, LG announced that the promotion will be valid until June 21, but the manufacturer recently announced that it is expanding the US-only special offer until June 30.
Although it may seem like LG is only giving away a second battery and a microSD card with the G4 flagship, there's a more subtle message to this promotion. By offering these two extras, LG is basically promoting two of the most important features of the LG G4, the removable battery and the microSD card support.
In a time when most high-end smartphones come with built-in batteries, the LG G4 is one of the few flagships to maintain a feature that, a couple of years ago, was present on most high-end smartphones. Furthermore, microSD card support is now featured by a shrinking number of high-end Android smartphones. Find out how the two features shape up the overall experience in our
LG G4 review
.
The removable battery and the microSD card slot are two advantages that the LG G4 holds over both the iPhone 6 and the Samsung Galaxy S6, and it makes sense for LG to promote the LG G4 through this well-thought special promotion. Now you have until the end of the month to take advantage of this promotion.