LG V10 vs Samsung Galaxy s6 edge+: first look
16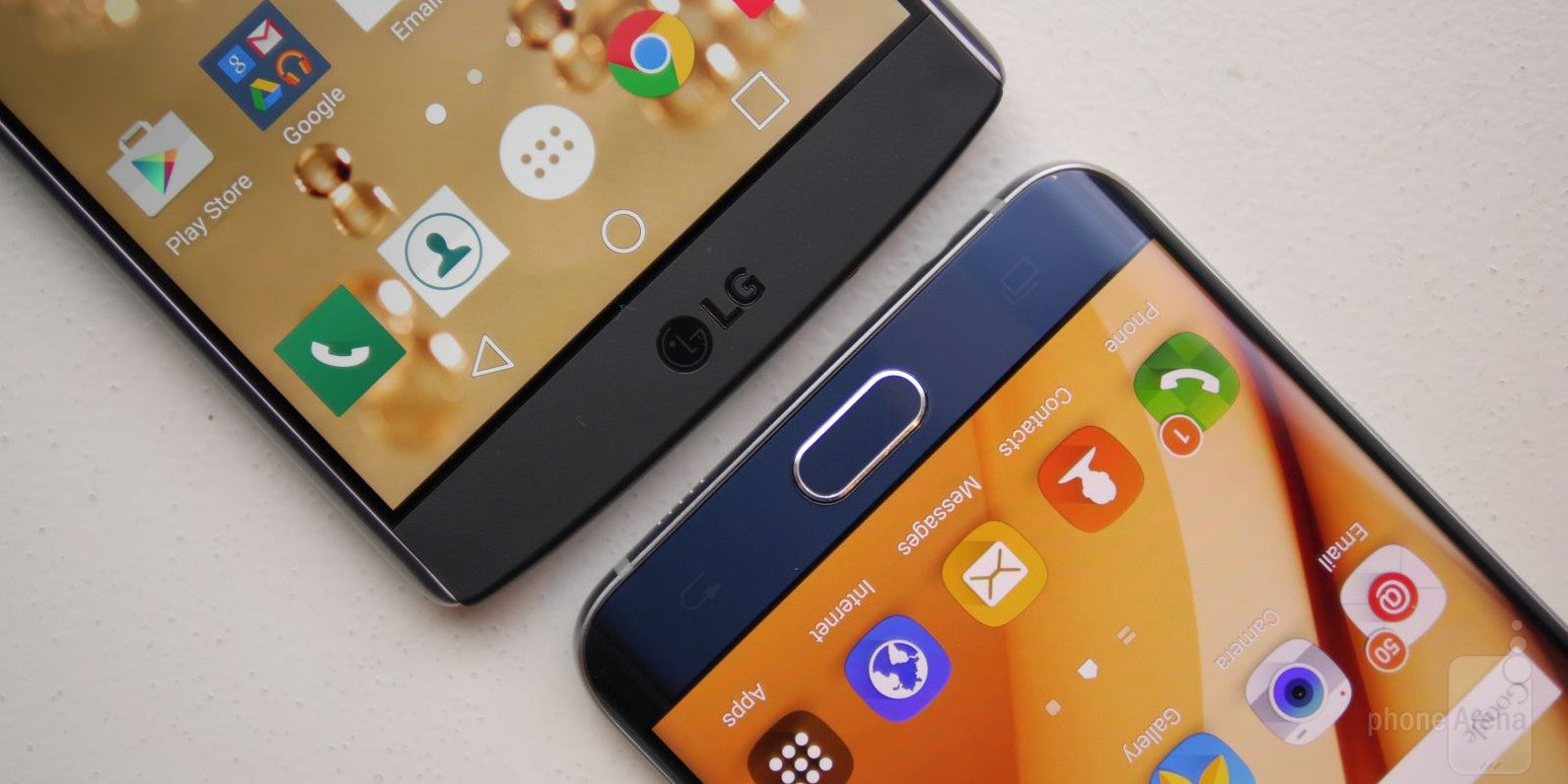 The Samsung Galaxy S6 edge+ is undoubtedly most recognizable for the slick aesthetics it's carrying along thanks in part to its dual-curved display. Rather than following with a similar premise, LG opted to tack on a tinier, secondary screen on its upcoming powerhouse of a phablet in the V10. Both devices share some super-duper specs, but beyond that, they're two different phones that are competing for your hard earned money this coming holiday season.
Design
Looking at the two, it's instantly recognizable that they have contrasting designs. Samsung favors the premium touch with the Galaxy S6 edge+, as it exhibits that luxurious look thanks in part to its metal meeting glass construction. And oh yeah, it exudes this slicker design due to the dual-curved display it's packing along as well. In achieving that level of premium, however, they've made the phone feel a bit fragile – one that wouldn't necessarily withstand drops.
And that's where the LG V10 answers back with a solid response, seeing that it addresses the fragility of the S6 edge+'s frame. Boasting a Dura Guard cladded body, further strengthened by 316L stainless steel guard on its sides, the V10 ensures it's well protected against shocks and drops – while also offering a bit more grip in the process. Indeed, it's not as premium looking or feeling in comparison to Sammy's offering, but regardless, some folks will appreciate the peace of mind that accompanies its design.
Display
On the specs front, they're pretty much the same – 5.7-inch sized displays with 1440 x 2560 Quad-HD resolution. What's different, unsurprisingly, is the type of display technology that both employ. The S6 edge+'s in particular, a Super AMOLED one, has already proven to be amongst the best in the field, dishing up great color accuracy and potent brightness, while still adhering to all of the properties that make AMOLED screens stand out. And of course, there are those dual curved edges, which serves its purpose in providing meaningful information when the screen is off – like the time, date, and some ticker notifications. When it's powered on, however, we just wish it were enhanced with even more functionality than the novel ones it currently offers.
Conversely, the LG V10 employs an IPS Quantum display, which is similar to the G4, but noticeably different at the same time. Staring at it, we can't help but notice some AMOLED-like qualities with its package. At the highest brightness setting, it produces an iridescent glow that gives colors a ton of liveliness. Additionally, it manages to do nicely in reproducing that true black color.
Each phone has its own unique characteristics, and in the case of the LG V10, it sports a smaller sized secondary screen tucked into the upper right corner of the panel. Its purpose is mostly related to eliminating the need to constantly turn on the screen to check out the time and date, and when it's powered on, it's used to multi-task between apps and offer some additional functions in certain apps.
Interface
LG's customized Android experience meets TouchWiz again. Even though their layouts and overall presentations differ from one another, they're incredibly powerful and diversified to appease power users who crave a higher level of functionality. From their multi-tasking prowess, to even their one-handed modes, they really cater to a wide range of folks. Until we experience the LG V10 in full form, we can't specify which of the two offers the superior experience.
Processor and Memory
Superficially, the two handsets provide the necessary power punch to handle all the basic and trivial tasks. The S6 edge+ is propelled by Sammy's own octa-core Exynos 7420 chipset with 4GB of RAM, which has shown to be excellent in handling graphics processing as well. On the flip side, the LG V10 is powered by the same processor used by the G4 already – a hexacore Qualcomm Snapdragon 808 SoC coupled with 4GB of RAM as well. While it's accompanied with smooth responses navigating through the interface, we're curious to see how it yields in the graphics side.
Sammy's prized darling is available in 32GB and 64GB capacities, but there's no room for expansion whatsoever. Well, LG addresses that because not only does it come stock with a generous 64GB of storage, but there's also a microSD card slot in tow for expansion.
Camera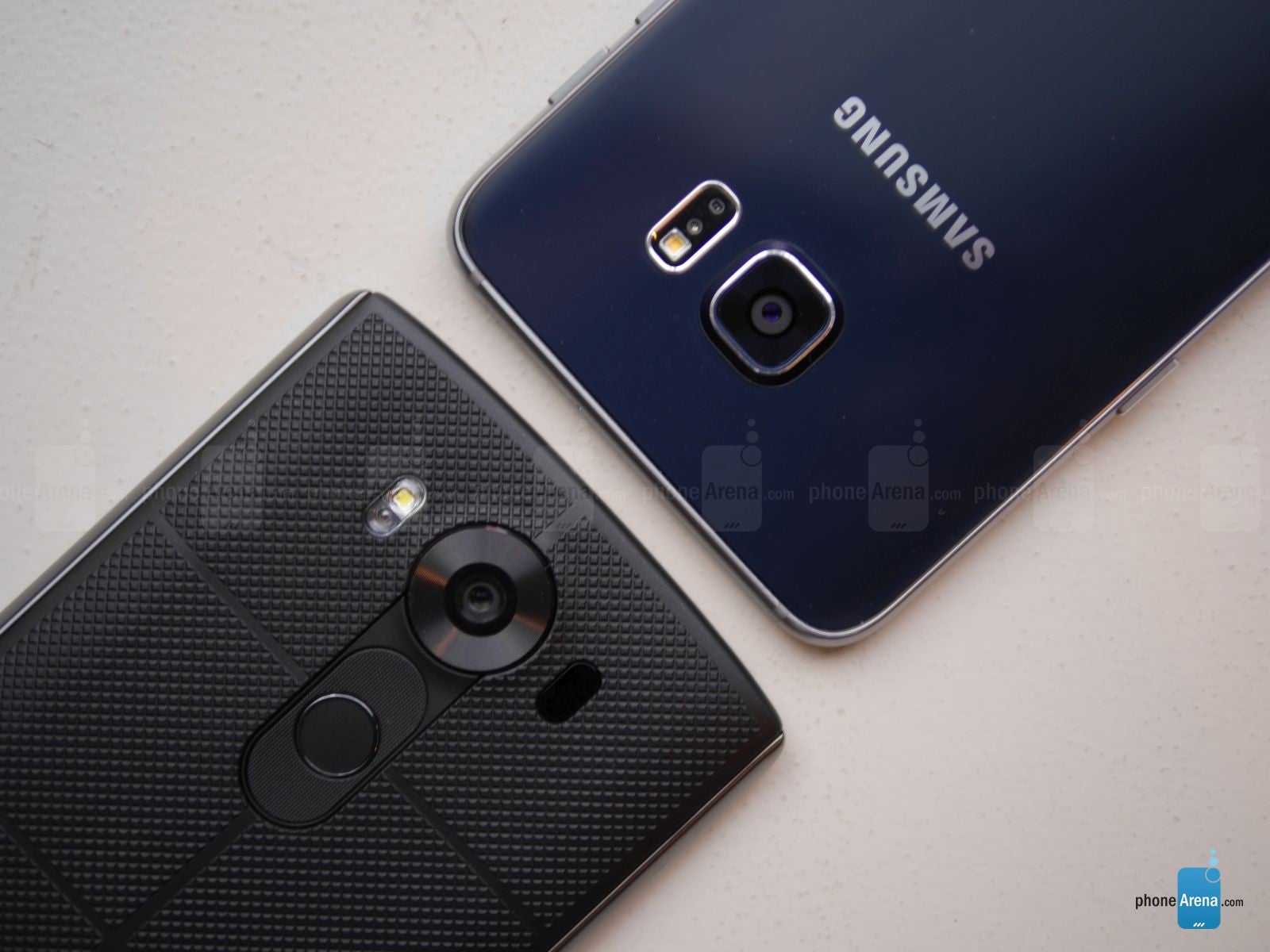 The S6 edge+'s 16-megapixel camera with an f/1.9 aperture lens has proven to be quite exquisite when it comes to capturing all sorts of footage, but if the LG G4 is any indication, we can expect the same, if not better results with the V10. And why's that? For starters, it's fashioned with a 16-megapixel snapper with a slightly better f/1.8 aperture lens, but what really sets it apart is the fact that it offers true video manual control – something that's unavailable with the Note5.
Adding to its arsenal, the V10 comes with two front-facing 5-megapixel cameras – whereas there's only a single 5-megapixel snapper with the S6 edge+. This tandem of sorts enables the V10 to capture a wider field of view with its front-facing cameras, so you'll never need to use a selfie stick again.
Expectations
Funny how things go, as these two beastly smartphones dish up their own interpretation for a screen beyond the actual screen. On the surface, the dual-curved display of the S6 edge+ and the secondary display of the V10 act similarly to one another – wherein they offer quick peeks to things like the date, time, and notifications when their screens are on. In addition, they offer some enhanced functions as well when they're on.
Sammy's offering has no doubt been riveting with its great all-around performance, however, the LG V10 is shaping out to be a formidable contender. Sure, it's not as good looking as Sammy's phablet of sorts, but it favors utility above all with its protective qualities. Better yet, too, it's looking to earn the crown for being the camera phone to beat. Indeed, only time will tell if all of that can come to fruition.