LG V10: the specs review
35

Technological reporters and enthusiasts seem to unanimously agree — smartphones have become boring! Looking broadly at things, innovation in design and functionality has very much peaked, cheap smartphones are steadily catching up to expensive premium-tier flagships, and somewhere in a distant laboratory, little mice in lab coats are experimenting with curved screens and flexible materials in a bid to keep the industry rat race going.
Over at LG's, though, it's never boring! LG is the odd one in the pack, always doing something genuinely different with its smartphones. Aluminum body? Come on, everyone's doing that — why not throw in some organic leather instead? Or use some strange compound cooked up in the chemical lab to make a bendable phone with a self-healing back! And while we're at it, let's build an awesome camera and make a display with larger than life colors so those photos will look delightful! That's what made the company's flagship smartphone, the LG G4, stand out.
The LG V10 is, arguably, the most out there that the company has been in regards to its high-end smartphones. We'd like to say the V10 is hardly a mere smartphone, but rather a collection of cutting-edge technological components tightly arranged around and behind a killer display... only there's not one, but two screens in here (well, sort of), and the same goes for the front camera, which is also multiplied by two! Boy, specs enthusiasts are going to have a field day with this smartphone, for the V10 is so overloaded with tech, it could easily weird out the average folks who simply expect their smartphone to look and feel like a Galaxy S or an iPhone. Don't be intimidated, though, let's have a closer look at this bad boy!
Design
For the first time in a while, LG returns to the metal & plastic look it had going on with some of its older handsets, such as the Optimus 4X HD. That is, the plastic front and rear panels are held together by a sturdy frame that, interestingly enough, doesn't fully envelop the smartphone — it only accents the left and right sides, although the frame itself is anything but a piece of subtle decoration. It's giant, shiny, and imposing! It's also composed of SAE grade 316L stain-less steel, the same tough, hypoallergenic material used to make surgical tools and high- end watches.
Even though the LG V10 looks decent as a whole, giving off the impression of a refined LG G3 (complete with back panel button placements), we can't really say the same for the plastic. LG finished it off with a grippy texture that resembles a handgun handle, giving it a practical purpose (secure grip) at the cost of an unsophisticated look. Looks are superficial, though, for the back panel and the bottom display bezel are treated with Dura Skin, a material that's soft to the touch, yet highly resistant to nicks and scratches. With this combination of tweaked-up plastic and metal, the LG V10 passed a MET Laboratories' test, which involved repeated drops from a height of 48 inches, with a "MIL-STD-810G Transit Drop" compliance for shock. In other words, this is a tough smartphone that doesn't look like a Caterpillar handset! It's also a biggie, measuring at 6.28 x 3.12 x 0.34 inches (159.6 x 79.3 x 8.6 mm) and weighing in at 6.77 oz (192 g).
To make the toughened-up V10 easier on the eyes, LG came up with some catchy colors in addition to the all too stern-looking black. We're talking white, beige, and two types of blue - 'ocean' and 'opal'. These look sexy and definitely add some appeal to the otherwise unassuming handset!

Display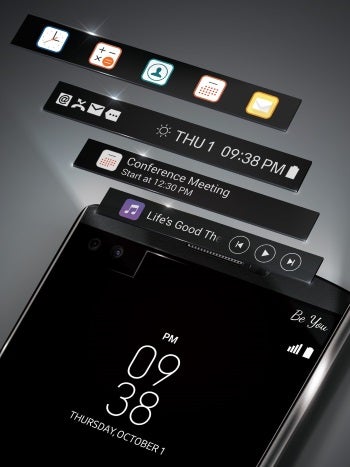 The technology behind the display should be very familiar to those that know the LG G4. The V10 has an IPS LCD Quantum Display, with the 5.7-inch portion set at a 1440 x 2560 resolution with a very sharp pixel density of 513 pixels per inch, and the 2.1-inch separate fragment set at a 160 x 1040 resolution, which adds up to the same pixel density.
So, how much stuff can you actually do with such pixel dense, yet small screen real estate? Obviously, the little screen isn't meant for essential functionality. With the main display on, the Second Screen can be set to convert to a dedicated launching area for shortcuts or your favorite apps. What's more, when you're enjoying a movie or game on the V10, the Second Screen will notify you discreetly without blocking your view when a call or text comes in. Nothing too fancy, folks, just some genuine usability thrown in for good measure!
Processor and Memory
Once again, LG opted for the Qualcomm Snapdragon 808 processor that also powers the LG G4. While doing fairly well in the general processing department, the 808 falls below last year's Snapdragon 805-powered smartphones in 3D graphics performance. This makes any smartphone powered by that processor, such as the LG V10 and the LG G4, hard to recommend for intense gaming sessions. Otherwise, the 808 can handle casual games and essential functionality, such as 4K video recording and playback, without any problems. Moreover, Qualcomm's SoC, which supports Cat. 9 LTE Internet speeds (450Mbps downlink), is paired with 4 gigabytes of LPDDR3 RAM for elaborate multitasking duties, and the V10's base model starts with a gracious 64GB of internal storage that's expandable via microSD card.
The whole assembly is powered by a 3000mAh removable battery unit that should be sufficient for around 6 hours of on-screen time. If you have a spare charged one around, just pop it in and you'll be good for another use session. It's either that, or juicing up with a Fast Charging-compatible cable and charger from the nearest outlet.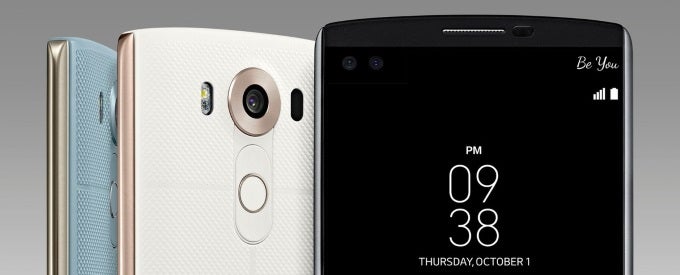 Camera
Oh boy, here's where it gets interesting! LG is putting serious effort into its camera experience, for not only does the V10 feature two 5MP front cameras, it's also the first smartphone to offer manual mode for video shooting! But the rear camera is pretty hot-shot as well, for it's a 16MP unit with F1.8 aperture and optical image stabilization, accompanied by the 'special sauce' stuff that we know from the LG G4 - a single LED flash, color spectrum sensor, and laser autofocus system. Overall, this camera setup is of the LG G4's very good level, and possibly even better! We'll reserve actual judgment for when we get to review the V10.
Moving on to the party at the front, the dual camera setup employs two 5MP units that have two separate lenses — be it 80 degree selfies or 120 degree wide angle selfies. This means you can take selfies or group selfies ('groufies', as the adorably dorky term coined by Huawei goes) without excessive camera panning and shaking. In addition to that, the V10 employs a sophisticated software algorithm to combine images from the two separate lenses, making the best of both.
Camera sensors are one thing, but what about the software part of the equation, one that's almost equally as important? Well, LG weighed in on that too, copying and pasting the LG G4's lauded manual mode for still photography onto the video shooting mode! A first for smartphones, Manual Video Mode lets one adjust things like shutter speed, frame rate, ISO, white balance, and focus while recording. Videos can be recorded in three resolutions — HD, FHD or UHD — and two aspect ratios — 16:9 standard or 21:9 cinematic. With the active involvement of tech partner Qualcomm, LG also rounded out the camera app and software algorithms with features such as Steady Record (electronic image stabilization optimized for video), Quick Video Editor & Quick Share (allowing basic editing and fast sharing and social networks), and Audio Monitor (automatically adjusts the sensitivity of the three built-in microphones).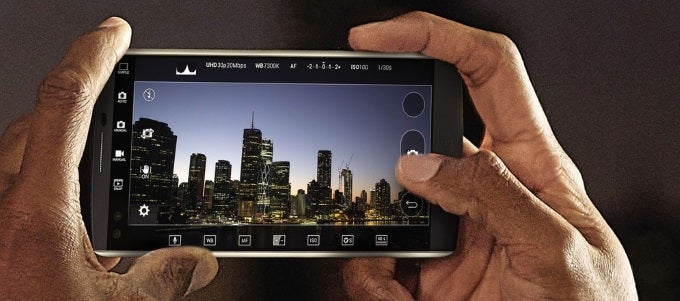 Fingerprint scanner
On top of everything else, LG finally caved in and got around to adding fingerprint security! The fingerprint sensor is built inside the power key and functions to securely unlock the smartphone and utilize Android Pay (in the United States). We don't know what kind of sensor LG uses in the V10, but given the company's position on the market, it should be a reasonably well behaving unit!
Multimedia
Giving proper attention where it's due, LG added a 32-bit Hi-Fi DAC by ESS Technology. Now, we can't be quite sure which of the numerious DACs made by ESS it is that LG has employed, but a dedicated chip can be counted on to provide a pretty sweet signal to noise ratio and transparent sound reproduction. ESS DACs support jitter elimination, integrated DSP processing, stereo/mono output, and user-programmable filters. Ultimately, though, it is what LG makes of the chip that will really matter for the user experience. According to LG, the V10 can "automatically detect connected devices and also provides sound control options which can be customized." We have a feeling something got lost in translation here, so we'll be seeing how things pan out with the V10's audio experience.

Antenna boosting tech
What do you know, the LG V10 happens to be the first commercial device to utilize Qualcomm's TruSignal antenna boost. Qualcomm is never keen on detailing its technology before the press and consumers, so all we can tell you is that the tech has been designed to intelligently optimize signal strength for fewer dropped calls, faster data and better call coverage, no matter how the phone is held.
Conclusion
What can we say, the LG V10 looks like a seriously impressive device that will catch the interest of phablet lovers with its large screen, grippy and durable build with just the right amount of elegance to not get lost among all the flashy aluminum devices out there, and of course, that dual camera and dual screen setup that's yet to have an alternative on the market. Although the Snapdragon 808 chipset powering it will cut its chances to perform amongst the gamer crowd, we expect LG to price the V10 a bit below competing high-end smartphones, which will become another strong point of its. The microSD slot and removable battery are also very desirable characteristics of its.
However, the V10 might have a pretty hard time sparing with the real heavy artillery out there, the Samsung Galaxy S6 edge+ and the iPhone 6s Plus. Both devices perform very fast, feature really good cameras, and offer outstanding design. Still, LG is obviously giving it a hard and honest try at competing with the big dogs while remaining true to its vision and customer feedback.